COLORADO SPRINGS — The suspect in the Club Q shooting that took the lives of five people and injured more than a dozen other people was in court Friday for a motions hearing as defense attorneys again asked for more time to review evidence.
Anderson Aldrich currently faces 317 charges in the case against them.
The judge heard from defense counsel who was asking for more time before the scheduled February 22 preliminary hearing in order to have more time to look over discovery evidence from the District Attorney's Office.
The defense argued they have received evidence in batches from late December up until just two days ago. The judge denied a request for a continuance on the preliminary hearing and advised the public defender's office attorneys they will be in court for those proceedings.
There was also a conversation initiated by the defense seeking specifics on evidence supporting the charges of bias-motivated crimes. The prosecution informed the court that the defense should already be in possession of that information. The judge advised they review the evidence more closely.
The concern from the two attorneys from the public defender's office surrounds their current caseload and obligations to other homicide case defendants and upcoming trials. The judge reminded them Colorado law does not require them to have time to review every piece of evidence to prepare for a hearing that covers probable cause in a case.
Right now, the preliminary hearing dates for this case are set for the week of February 22. There are three days set aside for the preliminary hearing, in which the prosecutor presents evidence to a judge using cross-examination of detectives and other witnesses with the intent of showing there is enough evidence to proceed to trial. Defense counsel cross-examines witnesses in order to refute the evidence presented.
The case could go to trial as early as this summer if there are no obstacles or issues raised in future hearings.
Aldrich initially faced 305 charges. However, amended charges were filed on Jan. 9 and 12 additional charges were added.
Aldrich is now facing two additional counts of:

First-Degree Attempted Murder – After Deliberation
First-Degree Attempted Murder – Extreme Indifference
First-Degree Attempted Assault – Serious Bodily Injury with a Deadly Weapon
Attempted Assault – Extreme Indifference
Bias Motivated Crime
Crime of Violence
Aldrich, who identifies as nonbinary and uses they/them pronouns, is accused of opening fire inside the Colorado Springs club with an AR-15-style rifle, killing five people and injuring 17 others on Nov. 19.
Killed in the attack were Raymond Green Vance, 22; Daniel Aston, 28; Ashley Paugh, 35; Derrick Rump, 38; and Kelly Loving, 40.
Richard Fierro and Thomas James, subdued the suspect.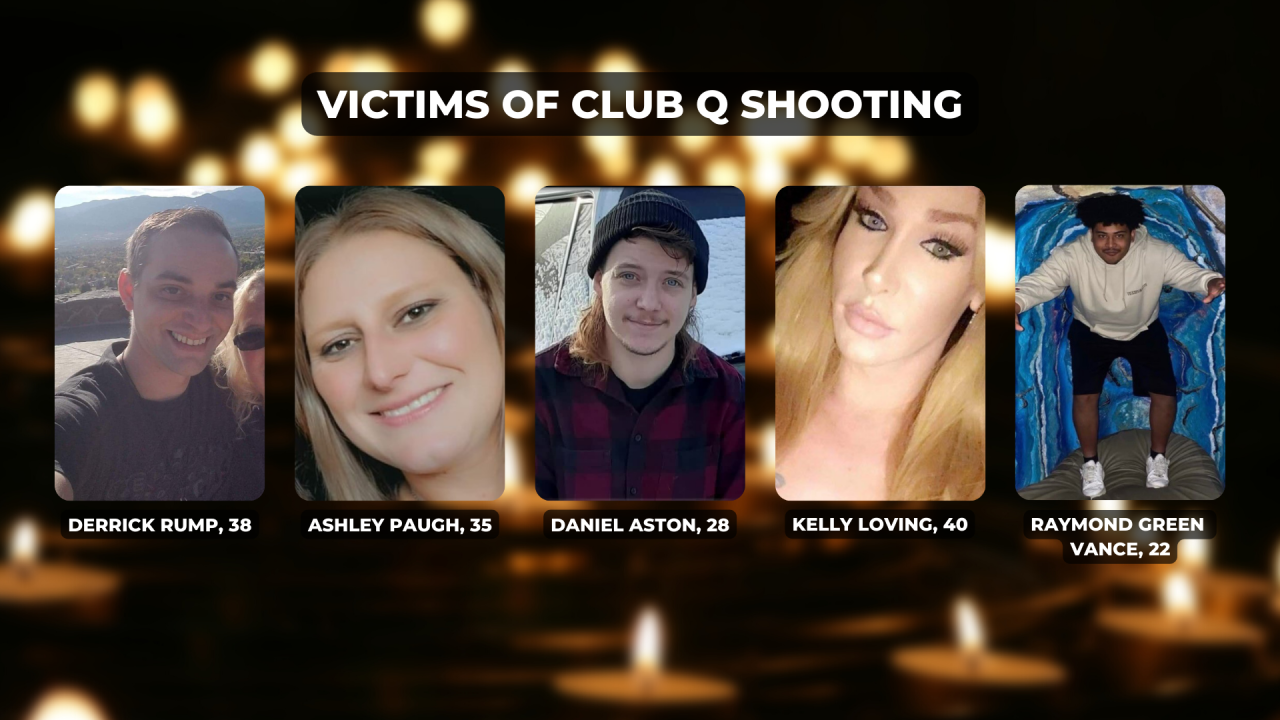 Read more:

____
Watch KOAA News5 on your time, anytime with our free streaming app available for your Roku, FireTV, AppleTV and Android TV. Just search KOAA News5, download and start watching.