COLORADO SPRINGS — It has almost been one year since the horrific shooting at Club Q in Colorado Springs. One health organization in Colorado Springs said many people are seeking mental health services because of the trauma from the Club Q shooting.
Diversus Health is now offering behavioral health services to people impacted by Club Q. Diversus Health is a mental health center serving El Paso, Park, and Teller counties.
The services they will offer include peer counseling, educational support, and counseling/therapy. The services will be free, regardless of insurance the type of insurance people have.
Diversus Health received a grant for more than $600,000 in federal funds from the Colorado Department of Health And Environment. Jennifer Herman is the Grants Strategy Director for Diversus Health. Herman said the money helps Diversus Health hire more mental health experts such as clinicians and peer specialists.
"It provides us with the ability to hire about two to three clinicians to provide council services and four outreach peer specialists," Herman said.
The services are available now. People can access the services on their website. There is a section on the website for people to fill out for Club Q impact services. A peer specialist will reach out to connect them with services.
Diversus Health staff said these services are necessary because many people at the club that night are suffering from long-term impacts to their mental health.
"The trauma effect because of this, sometimes people don't realize they are experiencing sometimes until months later," Herman said.
Diversus Health did offer disaster relief when the shooting first happened, back in November of 2022. Herman said they had to then wait for more funding to provide ongoing support.
One Club Q survivor said finding mental health services can be difficult.
"Mental health plays a big role in these types of situations," said Ashtin Gamblin.
Gamblin is a survivor of the Club Q shooting and she is a former employee of Club Q. Gamblin used to work the front door. She said this past year has been very hard for her.
"It's been different, typing to find a new normal and learn how to cope with things, it's a challenge, but I am taking it day by day," Gamblin said.
Gamblin said she has sought out mental health services to help her.
"It's been a hard struggle, I am in therapy, but the PTSD is unfortunately real," Gamblin said.
Along with PTSD, Gamblin also said she has experienced panic attacks.
"I went to a concert where they have pyrotechnics, I knew there were pyrotechnics and still have a panic attack," Gamblin said.
Gamblin said hopes more people will be encouraged to seek help now that free counseling is being offered.
"I don't want to see us continue to struggle. It is not fair to us. It realistically should have never happened and we should not have these issues, but now that we do, we just really need to get back on our feet," Gamblin said.
Gamblin said she is worried about the one-year mark since the shooting approaches.
"I'm a little hesitant, just to get to that marker, I kinda just want it to be over," Gamblin said.
Diversus Health is offering these services until the end of April. According to Herman, the services will most likely be extended until the grant funding runs out.
People should reach out to Diversus Health to receive these services.
RELATED
Club Q Shooting coverage
Club Q Hero Thomas James: 'You do the right thing, because it's the right thing to do'
Club Q announces 'One Year Remembrance' ceremony a year after mass shooting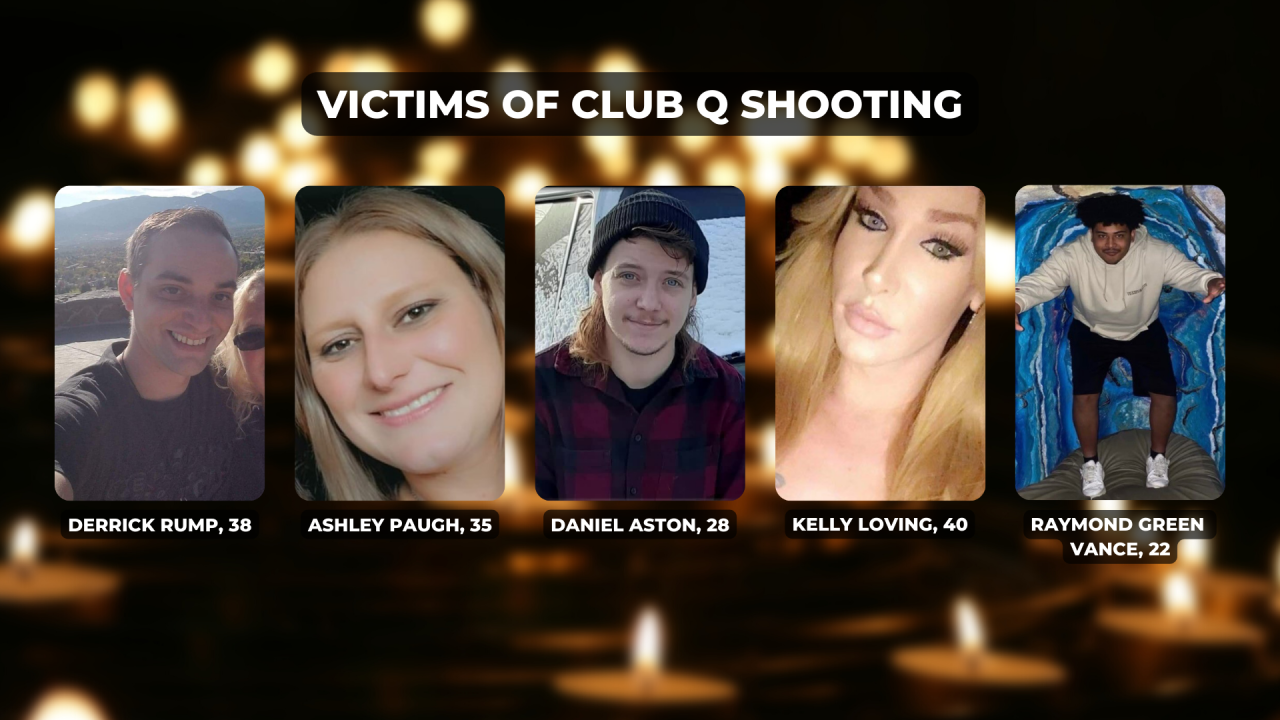 Remembering the victims:
____
Watch KOAA News5 on your time, anytime with our free streaming app available for your Roku, FireTV, AppleTV and Android TV. Just search KOAA News5, download and start watching.