WETMORE – Out at the Sanders' place in Wetmore, they welcome nearly every type of Colorado animal in need of rehabilitation. For more than 30 years, this power couple has cared for more than 200 orphaned bear cubs at Wet Moutain Wildlife Rehabilitation.
"I think it's in our blood," commented Cecelia Sanders. And if that passion is in their blood, then it stands to reason that it's also on their land and in their home.
The property of these retired teachers from Pueblo is almost completely dedicated to wildlife rehab, with several enclosures inside and outside their walls, and only one-and-a-half rooms exclusively for human use.
Inside they keep rescued birds and the like, while outside you'll find eight fawns, three bobcats, and of course 15 bears (right now).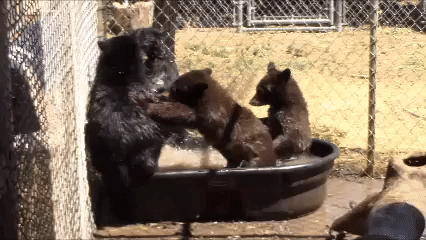 At this home, they count the amount of food consumed in tons. In just a few days, the bears can eat hundreds of pounds of fruits and nuts.
Cecilia says every new bear that arrives at their place is given a stuffed animal – sometimes a huge teddy bear – to play and bond with. They'll use the toys for snuggling and to drag around their enclosure.
As you can imagine, all of this effort, the rehab, food costs, and facility creation isn't cheap. Cecilia and Tom Sanders are the only staff on hand at the center, with zero government funding, and no salaries. All of this is covered by donations and the community support.
Their goal is to take these bears in at a young age, care for them until they reach maturity, then arrange for a release back into the wild by Colorado Parks & Wildlife.
The key to making sure the bears don't end up back in a cage is a hands-off approach and reinforcing a wariness of humans. In case you were wondering – no they don't allow visitors or tours.
As long as Colorado continues to grow with more homes, businesses, tourists, and roads the likelihood of human-bear encounters increase. The Wet Moutain Wildlife Rehabilitation is one of only three such centers in Colorado.
Both Tom and Cecelia say they have no intention of stopping their work anytime soon.
If you would like to get involved in their efforts via donations, you can follow THIS LINK for contact information.
To learn more about how to peacefully live alongside bears (our rather large and furry neighbors) you can follow THIS LINK for tips from Colorado Parks and Wildlife.
RELATED: