(MANITOU SPRINGS) – "Yesterday I climbed the Manitou incline on my rear and my hands," Mandy stated.
The incline, infamous for its difficulty, ascends 2,000 feet in its 2,744 steps in under one mile.
Mandy, self-dubbed as the life proof bionic woman (her Instagram handle), covered that distance without legs.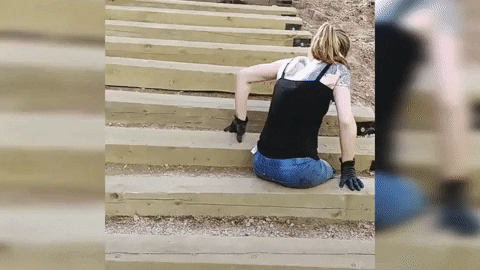 During the journey she says she was surprised by an overwhelming amount of support.
"I was expecting people to point and stare, laugh maybe. But everyone who passed me, made me give them a high five or was like, 'yeah, keep going, you're awesome.'"
Mandy lost her legs in a train collision while on a camping trip in July, 2014. She remembers having a few drinks, stepping outside for a smoke, "And then the world went black."
"It's suspected now that I was incapacitated by a date rape drug. I was found under a coal car. The train conductor, my surgeon team, and my trauma team did everything they could to get me back going," she said.
Mandy has not let the incident prevent her from living her life and she hopes this climb encourages others who have lost limbs.
"Losing a limb, in a way, is kind of like losing a part of yourself. In my experience in being peer support for other amputees, that a lot of them, a lot of us, tend to get depressed and feel limited [regarding] our capabilities. I guess my message would be that our capabilities are limitless," she said confidently.
So what's next for Colorado's bionic woman?
"Well I figure if I can climb the Manitou incline, I can climb Pikes Peak; so that might be something that happens."
In the years to come, Mandy hopes to open up a restaurant that will cater to the amputees and veterans who have lost limbs. Additionally, she and her friends hope to start a non-profit dedicated to visiting new amputees in the hospital.
---
To follow Mandy's journey on Instagram and check out her original incline video, you can CLICK HERE.