COLORADO SPRINGS – Grassy medians and tree-lined streets are a feature of living in Briargate. All of the greenery growing in the parkways throughout this neighborhood amounts to about 80 acres of irrigated turf.
Money to pay for the maintenance of all that landscaping comes from an additional property taxes paid by some residents. Briargate is one of seven neighborhoods in the City to be a part of what's considered a Special Improvement Maintenance District or SIMD. A typical homeowner with a house valued at $325,000 would pay an additional $103 a year in property taxes to the Briargate SIMD.
While the district collected around $930,000 this year through the mill levy, the money isn't stretching as far as it used to. Eric Becker, the Special Improvement Maintenance District Administrator for the City of Colorado Springs said water bills alone have doubled in the last decade.
"That's about 30 percent of our operating budget to be able to irrigate the turf areas in these special districts," Becker said.
Adding to the financial problems, not everyone living in Briargate actually pays the extra property tax.
"This (district) got to be a piece of swiss cheese," said City Councilman Dave Geislinger.
Roughly 2,250 of the 10,000 homes in the Briargate SIMD pay no additional property taxes. Those homes are concentrated in specific developments across the district.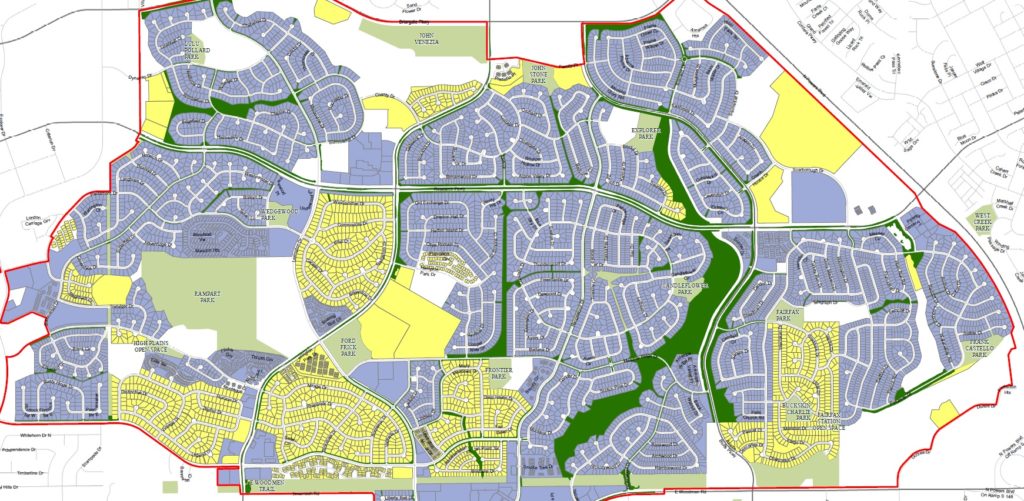 "Some of the smaller neighborhoods or the developments were inadvertently excluded," Geislinger said.
He explained that those exclusions occurred decades ago as the neighborhood was being built. City Council cannot simply pass an ordinance to begin taxing the omitted neighborhoods because the Tax Payers Bill of Rights (TABOR) Amendment requires voter approval on any new taxes.
Geislinger and the Council of Neighbors and Organizations (CONO) are putting together a town hall meeting to explain the history of the SIMD and to try and motivate Briargate residents to take action to protect their property values.
"These are really education information sessions to notify the public on what this maintenance district is and why it needs to adjust a little bit," explained Sara Vaas, the Chief Operating Officer of CONO.
The town hall meeting will be held Thursday, December 6 from 6:15 p.m. to 7:45 p.m. at the Explorer Elementary School gymnasium, 4190 Bardot Drive.