COLORADO SPRINGS – The effort to end homelessness for military veterans in Colorado Springs took a big step forward Monday. The Salvation Army launched its new Service Intensive Transitional Housing (SITH) program which will put a roof over the heads of up 22 vets.
The charity recently refurbished 11 apartments units it owns in a multi-family complex on Yuma Street near its headquarters. A grant from the Department of Veterans Affairs helped pay the ongoing costs of the program.
Captain Erin Kauffmann told reporters her organization is committed to getting their clients back on their feet again.
"The two goals that we have here are to help them get finances, whether it's benefits or a job, and then help them move into independent living," Kauffman said.
Colorado Springs Mayor John Suthers said between 30 and 40 veterans are living on the streets in Colorado Springs on any given night. He wants to reduce that number to zero.
"Ending veterans homelessness should be a moral goal of every community and especially in Colorado Springs where we owe so much to our veterans," he said.
Suthers explained that all homeless veterans qualify for housing vouchers, but the growing economy has caused rental prices to increase beyond the voucher amounts.
"I was under my contract and they priced me out and that's what forced me into homelessness," said Veteran Dellis Morris.
The OIF veteran and Bronze Star recipient had recently been living in his car until a referral from Rocky Mountain Human Services helped him to secure one of the first units here.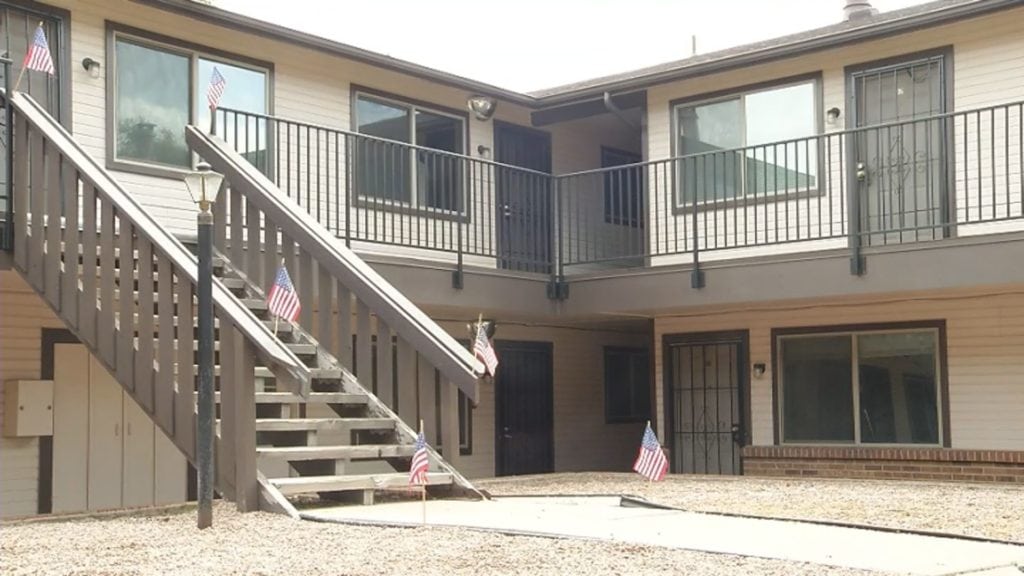 "I got out in '05, they didn't have all these great services now which I'm very grateful now that they don't kick the veterans out when they are injured from overseas," he said. "They rehabilitate them and try to find them a job within the military and so forth."
The vets who get into the SITH program can live here rent-free for up to two years. Program recipients receive help with case management services, life skills counseling, employment preparation. They also have access to meals, transportation, and benefits assistance.
"Our hope is to just wrap around and really make a difference in someone's life," Kauffmann said.
Army Veteran Mandrall Harris said being selected for the program is life-changing.
"It's a very big thing for me and my family cause it allows me to get back on my feet and actually transition back into society in a way that can help us out here in my time of need."
The generosity of the people Colorado Springs also helped make the project possible. Kauffmann said the Salvation Army received more than $50,000 in donated furniture and home goods to help make the apartments move in ready.