Huge snow over the past few months has provided incredible relief to the drought situation that has plagued Colorado throughout the last year. Several factors, including abundant winter snow to the bomb cyclone, have all worked together to push all but the lowest criteria of drought from the state.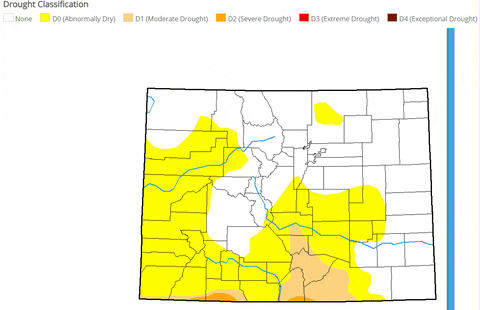 This slider shows a drought monitor comparison from last week to this week. It's easy to see just how much has changed in a week, with the severe criteria completely disappearing from the map and the moderate criteria going from 25 percent to just 6 percent!
One of the biggest drivers by far was the system that brought to bomb cyclone to southern Colorado last week. If you remember, this system actually started as incredibly heavy snow over the San Juan with 2 to 3 feet reported across the range from Monday through Friday.
In the first 19 days of March alone, especially from last week's storm, Colorado Snotel precipitation observation sites were measuring 289 percent March average snow. This means that in the first 19 days of March, we saw nearly 3 times the amount of snow we normally see in the whole month!