The Colorado Department of Public Health and Environment issued an air quality advisory for northeastern Costilla County, Huerfano County and Pueblo County due to smoke from the Spring Fire.
That advisory will be in effect until at least 9 a.m. Friday, but that advisory could be extended.
The department recommends people stay indoors if the smoke is thick in your neighborhood, especially for the elderly, young children and those with respiratory issues or heart disease.
If visibility is less than five miles in your neighborhood, it is considered unhealthy. The advisory does not cover areas of El Paso County or Colorado Springs, but visibility has been impacted in those areas as well.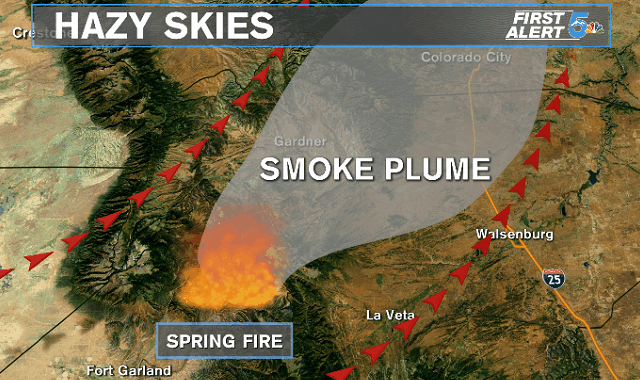 Smoke is expected to continue drifting northeast toward Pueblo and Colorado Springs while the Spring Fire continues to burn. As of Thursday night, it has burned an estimated 4,000 acres and is 0 percent contained.
RELATED: