BOULDER, Colo. — The 2019 world record for the men's 50-mile race fell last weekend after a runner from Boulder dug deep to cross the finish line almost two minutes under the previous record.
Charlie Lawrence, a 28-year-old who lives in Boulder, finished the Tunnel Hill 50 in Vienna, Illinois, on Saturday in 4 hours, 48 minutes and 21 seconds, according to the posted results on UltraSignUp.com. That's an average pace of 5:46 per mile. The new record is pending ratification.
'I'm gonna get this thing': Boulder runner breaks 50-mile world record
Lawrence broke the 2019 record, which was set by American Jim Walmsley, who now lives in France. Walmsley ran 50 miles in 4 hours, 50 minutes and 8 seconds at the HOKA One Project Carbon X event in California.
The record was something Lawrence had been eyeing for about a couple years.
"For about two years, and even when I was injured and in the pool and on the bike, I was just like, 'I'm gonna get this thing,'" he said. "So, even before the gun went off, I was really confident that I was going to have this. Was I intimidated? Not necessary by the record — I was intimidated more so by the distance."
Lawrence, who secured a place at the 2024 U.S. Olympic Team trials for the marathon, had reached mileage in the high 20s and low 30s before, but 50 miles was brand new territory. He moved to Boulder in 2020 for the "hyper-competitive" environment and altitude training.
"I have everything that I need here to be the best runner that I can be, truthfully," he said.
Lawrence began tinkering with the idea in the fall of 2021 because he felt the record was within his reach. That spring, he paced 2018 Boston Marathon champion Des Linden to a 50K world record near Eugene, Oregon. It was her first ultramarathon race and she broke the record by more than seven minutes.
"Prior to this Saturday, that was probably my favorite running accomplishment — was helping her do that," he said. "And again, she did all the work. I just kept her company."
To this day, he said Linden is still the person he goes to for advice, as she's basically family to him.
"It's Des — she's one of the best American marathoners of all time. So, to have her in my corner means a ton," he said.
That same year, Lawrence's friend mentioned the Tunnel Hill race, which is a flat and fast course on the Tunnel Hill Illinois State trail. Its website reads that it "contains no trip hazards" and has a 600-foot "iconic tunnel." The race is sanctioned and the course is certified by the USA Track & Field and International Association of Athletics Federations.
A stress fracture put his competitive running on hold in 2022, but he was back in action by February 2023. He set his sights on qualifying for the 2024 Olympic trials — a goal he had set for himself after finishing 61st in the 2020 Olympic Marathon Trials.
"But then I also had this goal in mind as well, so it's like, how can I take a risk, but also get my trials qualifier and then also maybe use that as a workout for the 50-mile?" Lawrence said.
He hit part one of his goals by running a personal best of 2:16:10 at the McKirdy Micro Marathon in New York on Oct. 14, nailing down a spot for the trials.
Four weeks later, with a little balancing act and some luck, he was standing on the starting line of the Tunnel Hill 50. His plan was to run mile splits in the 5:40 to 5:45 range for as long as he could hold on. This would leave him with extra time in the bank for the remainder of the race, as the world record averaged a 5:48 mile pace.
The first 24 miles, he was ahead of pace, hitting splits below 5:40.
"Where the course gets hard is 30 to 40-ish," Lawrence explained. "Because (the rest of the course) is essentially flat. Nothing's noticeable in the first 26. Then it's a gradual climb for the next 10-ish miles. So, we're just going up, up, up. Nothing extreme, but enough to notice."
He remembered using a lot of effort to maintain pace during the slight incline. The splits on his watch showed he had slowed slightly to 5:50 and 6:00 miles. After passing through the iconic tunnel in the race — roughly 200 meters of darkness —he had about 10 miles of downhill to the finish.
But his legs, especially his quadriceps, were fried.
"And I'm running downhill, just smashing them more," he said.
The miles ticked by slowly. He played mind games to try to pass the time: Get to the next bottle, eat some nutrition, then you'll feel better.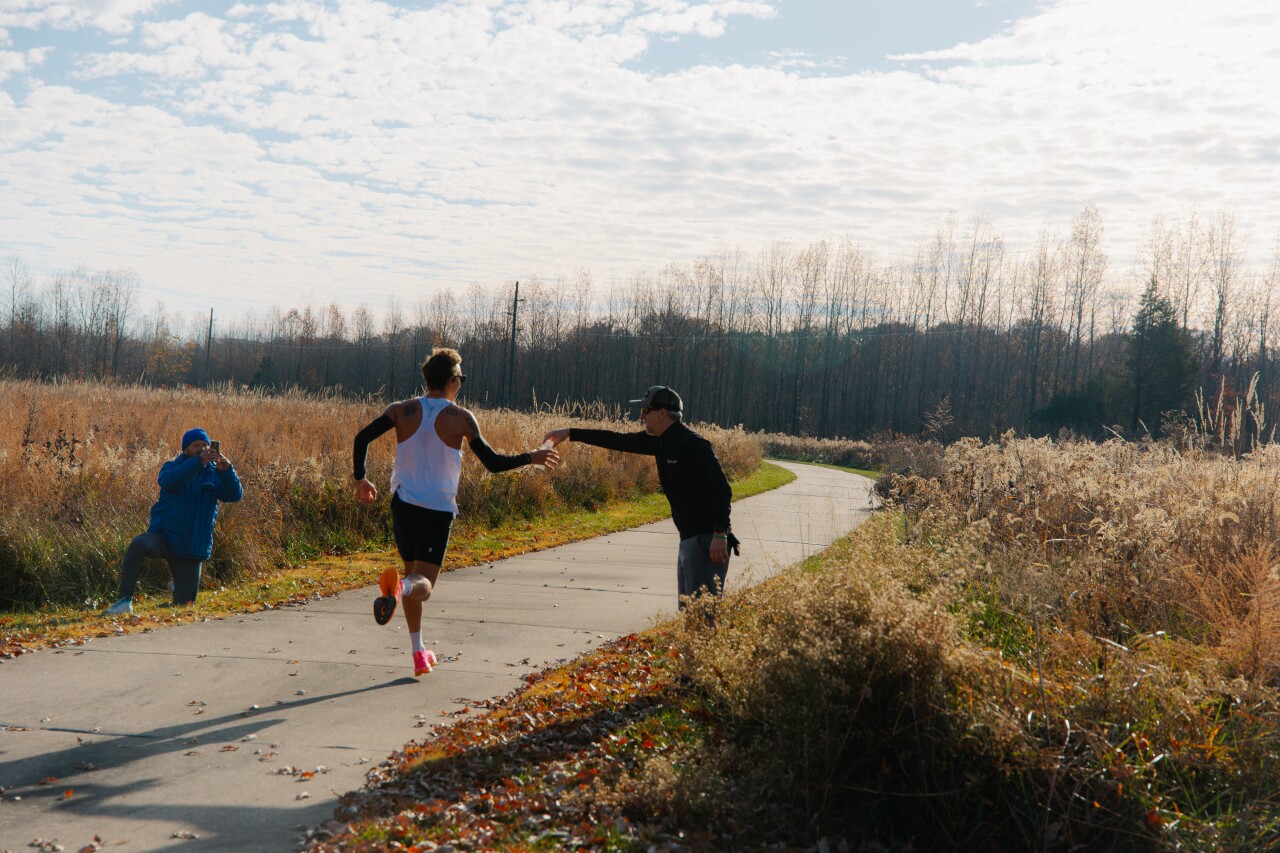 "I was telling myself, 'Don't stop, don't stop, keep going,'" he recalled. "But I'm picking my legs up and putting them down — that's all I'm doing. It feels like dead legs just plodding on the ground."
It was the one spot where he felt a little doubt creep in.
Around mile 47, he stopped for about 10 seconds to stretch his legs, which helped bring him back on pace for the remainder of that mile. Miles 48 and 49 both dipped toward the 6:30 pace, he said.
"In the last mile, you can kind of know where you're at," Lawrence said. "And you start being able to see the clock way ahead of you."
The race clock gave him a boost and he flew to the finish.
Lawrence hadn't been shy in the weeks leading up to the race. He said he felt confident he would set a new best time. In fact, it was something he expected of himself.
"Just had to prove it to everyone else," he said.
Next up for Lawrence is the Olympic Trials in February, but he said he hopes to take time off his own new 50-mile record as well.
---