EL PASO COUNTY – Fort Carson officials promised to help homeowners who lost their properties in the Carson Midway Fire.
6 months later, one fire victim says the Mountain Post hasn't delivered on its promise.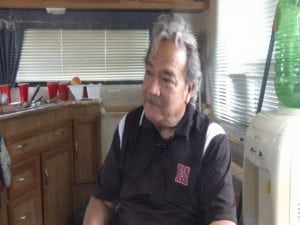 Since March, Lloyd Galindo has been living in a small RV with no permanent water source. He lost his home and underground water tank in the fire that sparked during a live fire-training exercise on Fort Carson property.
Galindo is pleading with the army to help him rebuild, but claims Fort Carson officials are giving him the run-around.
"I lost my clothing and pictures of my kids," Galindo said. "I had quite a few pictures. I have 5 sons. Now they are all old and in different places and I can't even get them in the same room now."
Galindo lost all of his property in Carson Midway Fire.
"My damages are what they are," he said. "They aren't going to change."
After the 3,300 acre fire was contained, his son traveled down from Wisconsin to bring him a mobile RV so he wouldn't be homeless. The RV sits just a few feet away from where his home once stood.
"I just want to be compensated somewhat for my loss and move on with my life," he said.
News 5 Investigates learned the fire that destroyed Galindo's home started on Fort Carson. Soldiers were performing live fire-training exercises on a red-flag warning day.
"The winds worked against us today and moved it (the fire) over the border of the installation and to some of the more rural areas," Fort Carson Col. Ronald Fitch said during a news conference shortly after the fire broke out.
The Mountain Post justified training on a high fire danger day. This angered some of the homeowners who were forced to evacuate for what they called a "preventable" fire.
"Because of the deployment cycle, we have to train in order to prepare our soldiers for dangers they may encounter oversees," Col. Fitch said.
Galindo filed a claim with Fort Carson for the loss of the home since he doesn't have insurance. His son, who owns the land has also filed a claim for property damage.
Fort Carson confirmed to News 5 Investigates that two separate claims were filed–both are pending.
An official with the Mountain Post came out and took pictures, but Galindo says he hasn't heard anything back about the status of his claim.
"I watch your reports," Galindo said. "I see that you help a lot of people and thought maybe you could help me. All I want to do is start over. They should help everybody that they damaged out here because they are responsible."
A Fort Carson spokesperson said there may have been some miscommunication between Galindo and the claims office. We're told they are working to validate Galindo's claim and will contact him directly to try and resolve this matter.
News 5 Investigates will keep you updated with any new developments as they become available.
Here is the official statement Fort Carson officials released:
"Following the Carson Midway Fire, 55 claims have been filed with the Fort Carson Office of the Staff Judge Advocate. The Fort Carson Claims Office has communicated with each claimant individually and is available to help all of them navigate the claims process in a timely and efficient manner. Individuals who have questions about the status of their claim may contact the Fort Carson Claims Office at 719-526-1355. It is our sincere desire to resolve meritorious claims as quickly and fairly as possible."