With warm-spring like weather settling into Colorado this week, does it mean that we're done with snow for the season? Although it won't be a popular answer, more than likely the answer is no.
Even though this past week has been nice and mild, April started out cold and snowy.
In Colorado Springs, we have already seen 9.4" of snow through today, April 22nd. Pueblo has collected far less than the Springs, with 2.8" of snowfall measured at the airport. The biggest single season snow in both cities took place back on April 13th.
Even though 9.4" of snow might seem like a lot, it comes nowhere near the top 3 snowiest Aprils on record. In fact, the snowiest April on record also happens to be the snowiest month on record. In April of 1957, 42.7" of snow fell in Colorado Springs.
Looking at the 2019-20 season as a whole, both Colorado Springs and Pueblo experienced above average snowfall this winter season. In the Springs, we've seen nearly 2 feet of snow above the seasonal average, with Pueblo running a surplus of more than 6" of snow.
That's a lot of snow, but how does it stack up compared to the snowiest years on record? In Colorado Springs, the snowiest season on record dates back to the 1956-57 season, when nearly 90" of snow fell in town. Interestingly enough, April 1957 as we learned above is also the snowiest month on record for the Springs. We also had a record setting season in the 1980s and in the 1970s.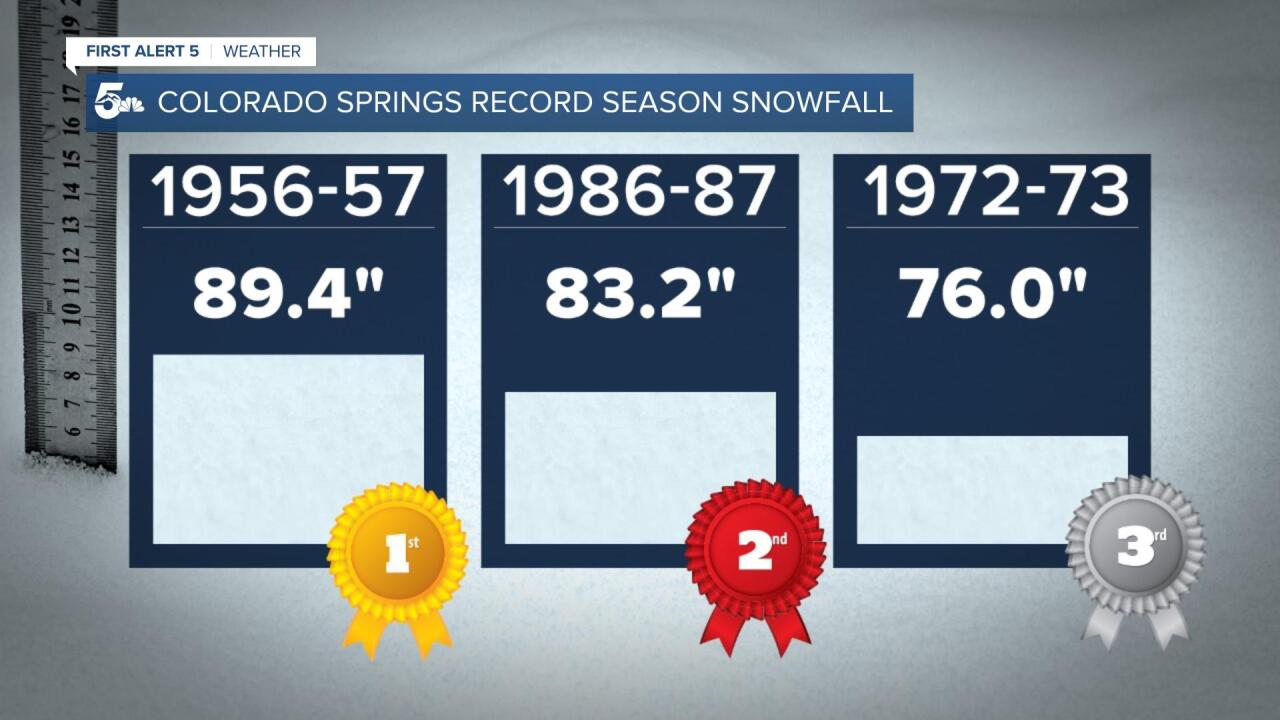 Even though we weren't breaking any records here in Southern Colorado this season, it has been a different story for parts of Northern Colorado. In Boulder, a seasonal snowfall record that's more than 110 years old was shattered this year by a surplus of nearly 10" of snow. To date, Boulder has reported 151.2" of snow.
While records aren't likely to fall this year in Southern Colorado, we can still see measurable snowfall through May and even into early June. Just last year, a late-season storm brought 1.5" of snow to the Springs on May 21st.