LARIMER COUNTY, Colo. — One of the trails most heavily damaged by the 2020 Cameron Peak Fire in northern Colorado will reopen on Saturday morning.
The Canyon Lakes Ranger District announced on Friday afternoon that the Roaring Creek Trail will reopen to the public at 10 a.m. Saturday after three years of repairing damage from the largest fire in Colorado's recorded history. A brief ribbon-cutting will happen ahead of the opening.
The trail takes users north from Kinikinik off Poudre Canyon Road, about 10 miles west of Rustic and 27 miles east of Gould.
Staff from the ranger district have worked for three years to repair and restore the trail alongside the Larimer County Youth Conservation Corps, Rocky Mountain Conservancy Conservation Corps, Singletrack Trails, National Forest Foundation and volunteers from the Overland Mountain Bike Association. In addition, Poudre Wilderness Volunteers recently helped deconstruct and reconstruct a bridge.
"District staff, partners, and volunteers have put three years of hard work into stabilizing sections susceptible to damage from post-fire flood events and rerouting major unsustainable portions of the first 2.5 miles of the trail," the U.S. Forest Service said.
Roaring Creek Trail has remained closed all this time for multiple reasons, including hazardous trees, erosion concerns, trail stabilization issues and more.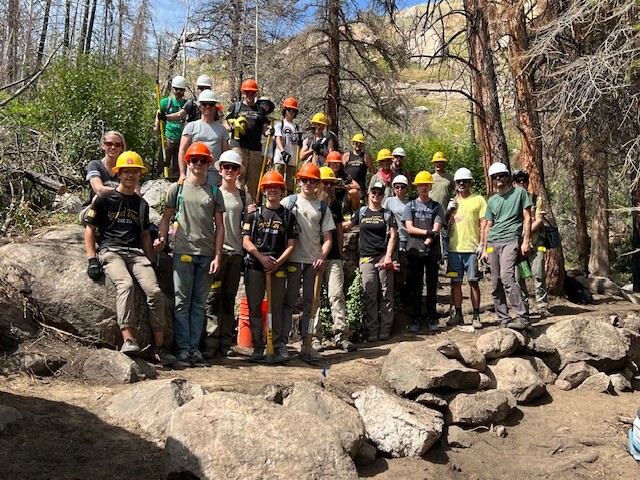 According to the National Forest Foundation (NFF), the trail's soil was moderately to severely burned in the fire, as well as countless trees and other flora.
The Cameron Peak Fire was first reported on Aug. 13, 2020 about 15 miles southwest of Red Feather Lakes and grew to 208,913 acres, according to the Colorado Division of Fire Prevention and Control. Of those acres, 173,000 were on National Forest land. It was declared fully contained in December 2020.
Visitors to the Roaring Creek Trail should remember that burn scars pose hazards that non-burned areas typically do not, such as falling trees, flood risks, stump holes and rockfall dangers.
This is the final trail to reopen in Canyon Lakes Ranger District in the wake of the Cameron Peak Fire.
'Void that we felt that we could fill': New team of Larimer County deputies, officers also fights wildfires
---
The Follow Up
What do you want Denver7 to follow up on? Is there a story, topic or issue you want us to revisit? Let us know with the contact form below.