DENVER — Almost four months have passed since the Colorado Wolf Restoration and Management Plan was approved, but it left numerous pressing questions up in the air. On Friday morning, Colorado Parks and Wildlife laid out some key solutions.
The CPW Commission held a two-day meeting in Steamboat Springs on Thursday and Friday. Among several other discussed topics, CPW's assistant director of aquatic, terrestrial and natural resources provided new details on how the plan is progressing.
Some were highly anticipated updates like where the donor wolves will come from, and some were new, like the announcement of wolf license plates coming in January to fund prevention of livestock-wolf conflicts.
Wolves will return to Colorado: What you should know about the reintroduction plan
The CPW Commission approved the final plan to introduce and manage gray wolves in Colorado on May 3. The plan was the result of two and a half years of discussions with experts, stakeholders and the community. The approval meant CPW could officially introduce wolves west of the Continental Divide before the end of 2023, as voters mandated when they approved Proposition 114 in November 2020.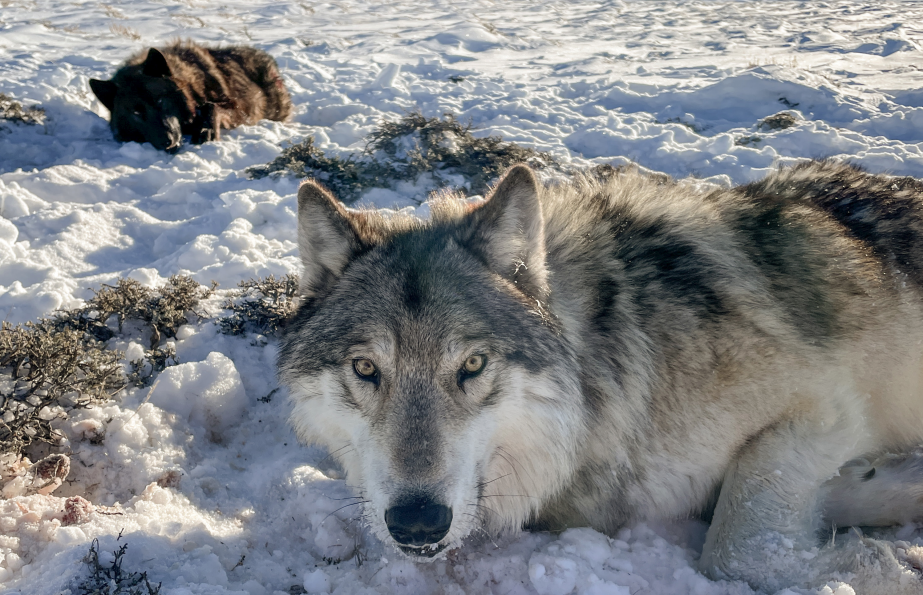 Local News
CPW Commission approves final Wolf Restoration and Management Plan
12:58 PM, May 03, 2023
In the wake of the final plan's approval, some questions still lingered: Where would Colorado get wolves from? Where will they be released in Colorado? Would section 10(j) of the federal Endangered Species Act (ESA) be adopted in time? What help is available to ranchers to prevent livestock-wolf conflicts?
CPW's Reid DeWalt provided several answers to those questions during Friday morning's meeting.
To kick things off, DeWalt said he was happy to report that everything was progressing as expected with the 10(j) rule.
To summarize why this is important: Section 10(j) in the ESA allows the federal government to designate a population of a listed species — like gray wolves — as experimental if they are set to be released into natural habitat outside their current range, like Colorado. If the 10(j) rule is adopted, which is still anticipated by the end of the year as the U.S. Fish and Wildlife Service (USFWS) continues to work to issue it, CPW would have increased management flexibility for the Colorado wolves.
Senate Bill 256, which would have prohibited CPW from restoring gray wolves before the 10(j) rule is adopted, was vetoed by Colorado Gov. Jared Polis in mid-May. Polis said he expects the 10(j) rule to be in place by the end of the year and wanted to honor the will of the voters.
DeWalt said Friday that officials at the Washington, D.C. office for USFWS are working to nail this down by mid-November, with a goal to put wolves on Colorado ground by mid-December.
"My biggest takeaway from this is that the 10J is on track," CPW Commissioner Chair Dallas May said. "That has been a huge concern for many people. And there are a lot of accusations that wouldn't happen, but I think it's pretty obvious in your comments you've diligently been working through that — you and the (USFWS). And all indications are it's going to happen the way it should. It may not, but everything is being done that can be done to make sure that happens."
Between the mid-November and mid-December dates, CPW will start the plan to gather donor wolves, DeWalt said. In the final wolf restoration plan, Idaho, Montana, Wyoming, Oregon and Washington were listed as possible states that may offer up a few of their wolves. However, Wyoming quickly shot down the idea, with the governor saying he was opposed to the 10(j) population. Idaho and Montana later said they were also not interested in participating.
Follow Up
Where will Colorado's donor gray wolves come from?
4:32 PM, May 23, 2023
That left Oregon and Washington, which were both open to the conversation. Since then, CPW has had productive discussions with their wildlife officials and built a strong relationship, DeWalt said.
He said he is confident they will have a source location for the wolves and is hoping for snow in December so capture operations go smoothly.
"We really need that snow for helicopter capture," DeWalt explained. "Wolves are fast and you're not going to track them down with a helicopter and we don't want to stress them. We want to capture them quickly."
Alternate capture methods could include trapping or snares, depending on what is approved in the state.
CPW and the donor state will work to identify young, breeding-age wolves to bring back to Colorado. They will take pack structure into account when making the selections, DeWalt said.
Each wolf placed in Colorado will have a collar. DeWalt said even with supply issue concerns, 20 collars have already been delivered.
DeWalt said the team is still examining possible release locations in Colorado, though they are leaning toward the northern circle as shown below in the final plan. The wolves will likely be released in 10 different locations within that perimeter.
Discussions are happening with New Mexico, Arizona and Utah about possible impacts to the Mexican Wolf Recovery Program. DeWalt said CPW is more than willing to bring Colorado's gray wolves back into the state if there's a threat of them mating with Mexican wolves.
Other logistics are also underway, like securing a helicopter for captures, working with companies that would fly wolves to Colorado immediately after capture, going through legal avenues to use tranquilizer drugs, building proper crates, hiring new employees for wolf-specific roles and more.
DeWalt also said that an administrative directive on the management of wolves — focused on solving conflicts with them — will be in place before the animals are released. This is the case with most predator species in the state, he said. CPW is building up its supply of items for preventative measures and continuing educational outreach.
CPW Commissioner Gary T. Skiba said some entities and nonprofits are already training people on how to prepare their property and ranching methods for wolves being on the landscape. He had recently joined a group in North Park to help install fladry and posts.
All in all, DeWalt said CPW is expecting to meet all of its nearing deadlines.
At the end of the meeting, CPW Director Jeff Davis thanked DeWalt and the rest of the CPW staff, noting that "wolves are hard work."
"Staff have been going above and beyond to make sure we're successful in doing what the voters approved us to do and making sure ranchers and livestock producers do not have to suffer consequences," Davis said.
CPW Commissioner Chair May echoed those thoughts at the conclusion of the wolf discussion Friday morning.
"The public perception is that the plan has been approved, that the work is over. Really, the work hasn't started yet," he said. "Staff now is tasked with an enormous job. And that is just beginning."
---
The Follow Up
What do you want Denver7 to follow up on? Is there a story, topic or issue you want us to revisit? Let us know with the contact form below.