COLORADO — With shorter days on the horizon, the leaves are beginning to change colors across Colorado. Statewide, it's a popular time of the year, when locals and tourists come out in droves to explore our state's rich colors and beautiful landscapes.
Best time to check out the Fall colors
This will vary from one end of the state to the other as northern Colorado will typically see a shift to cooler fall-like weather first.
Here are the average dates for peak fall color viewing.
Peak viewing dates look to be pretty dependable this year for the state.
In northern Colorado, the leaves can begin to change as early as mid-September, with the peak typically seen through the end of the month.
For the central part of the state, including the trendy I-70 corridor, peak colors are often experienced towards mid to late September, lasting in some years until early October.
For the Pikes Peak Region and the Highway 50 corridor, peak fall colors can be seen from late September through early to mid-October.
If you're planning to check out the autumn leaves in the Sangre de Cristo Mountains, Wet Mountains, and southwestern Colorado, you should probably wait until early mid-October.
Impacts of the Drought on the Changing Leaves
Drought plays a key role in our seasonal fall foliage. According to the latest drought report, areas of Moderate to Severe Drought have returned to portions of southwestern Colorado.
"The ongoing drought in the SW corner of Colorado will likely have deciduous trees, specifically aspens, start the fall process slightly earlier. In years past, where we saw exceptional and severe drought conditions, we saw the timing approx. two to three weeks earlier than "average," said Dr. Dan West.
According to Dr. Dan West, Forest Entomologist for the Colorado State Forest Service, the drought can actually be helpful in getting those colors to turn more quickly compared to non-drought years.
"The moisture and cooler temps across much of the state set up our fall aspen show to be better than in years past. That said, we need sunny days with cool crisp nights, not cold nights. The sun will burn off the greens, leaving us with the oranges and golds hidden beneath. The cool nights produce the reds and purples we all love so much. We need to avoid snow storms, heavy rain events, and frost to have the best show. Fingers crossed, but the forecasts with dry and cool temps look fairly good," according to Dr. Dan West.
---
Best places in the state for leaf peeping
Let's start locally, with some of my favorite places in southern Colorado to catch the changing fall colors. Most of these drives are close by, and can therefore attract larger crowds, so plan these trips on wide-open days when you're not rushed. Leaf peeping after all is all about the journey, not the destination!
Southern Colorado Drives - Mueller State Park
If you're looking for a great spot to picnic, hike, and see fall colors, drive over to Mueller State Park!
With over 5,000 acres to explore, you'll see tons of yellow aspen trees, the west face of Pikes Peak, and hikeable scenic overlooks.
The park is located a few miles south of Divide on Highway 67 in Teller County.
Southern Colorado Drives - Highway 67 from Divide to Cripple Creek
One of the best drives for fall colors from Colorado Springs is on Highway 67 from Divide to Cripple Creek!
You'll see tons of yellow Aspen and Cottonwood trees as you follow the highway south through the hills.
There are several pull-off spots along the highway to snap a picture, and you can grab lunch or place a bet in Cripple Creek before you head home!
Due to its close proximity to the I-25 corridor, it's one of the more popular leaf-peeping trails here.
Early mornings are preferred, or plan to check it out during the week in order to avoid peak crowds.
Southern Colorado Drives - Quail Lake
This is the shortest and easiest drive that you're going to get for fall foliage in southern Colorado. Quail Lake is located a few miles south of downtown Colorado Springs, and is surrounded by beautiful yellow and orange trees.
Quail Lake has a fantastic view of the southern edge of the Front Range leading right into Cheyenne Mountain. You can kayak, picnic, or simply take a walk on the nearly mile-long trail surrounding the lake.
The best view is along the waterfront on the lake's east side.
Southern Colorado Drives - Gold Camp Road
Formerly a railroad line from Colorado Springs to Cripple Creek, Gold Camp Road is now a free public road popular with bikers and hikers.
The road is very steep, rugged, and windy, but features several great views of Aspen and Cottonwood trees. The easiest way to get there is to drive through Cheyenne Canyon, and follow the paved road until it turns into Gold Camp Road.
A word of caution, Gold Camp is a ROUGH road with steep grades, so a 4-wheel-drive vehicle with good brakes is highly recommended.
Southern Colorado Drives - Highway 165 from Rye to San Isabel
A longtime favorite of Lead Forecaster Mike Daniels, this beautiful drive is great for those who live in Pueblo!
You'll see lots of Aspen trees as you drive through the Wet Mountains, with plenty more fall colors around San Isabel Lake.
To get there, just navigate your GPS to Rye, and follow Highway 165 all the way to San Isabel. If you have the time, keep driving about ten minutes west of San Isabel and explore Bishop Castle!
Southern Colorado Drives - Wilkerson Pass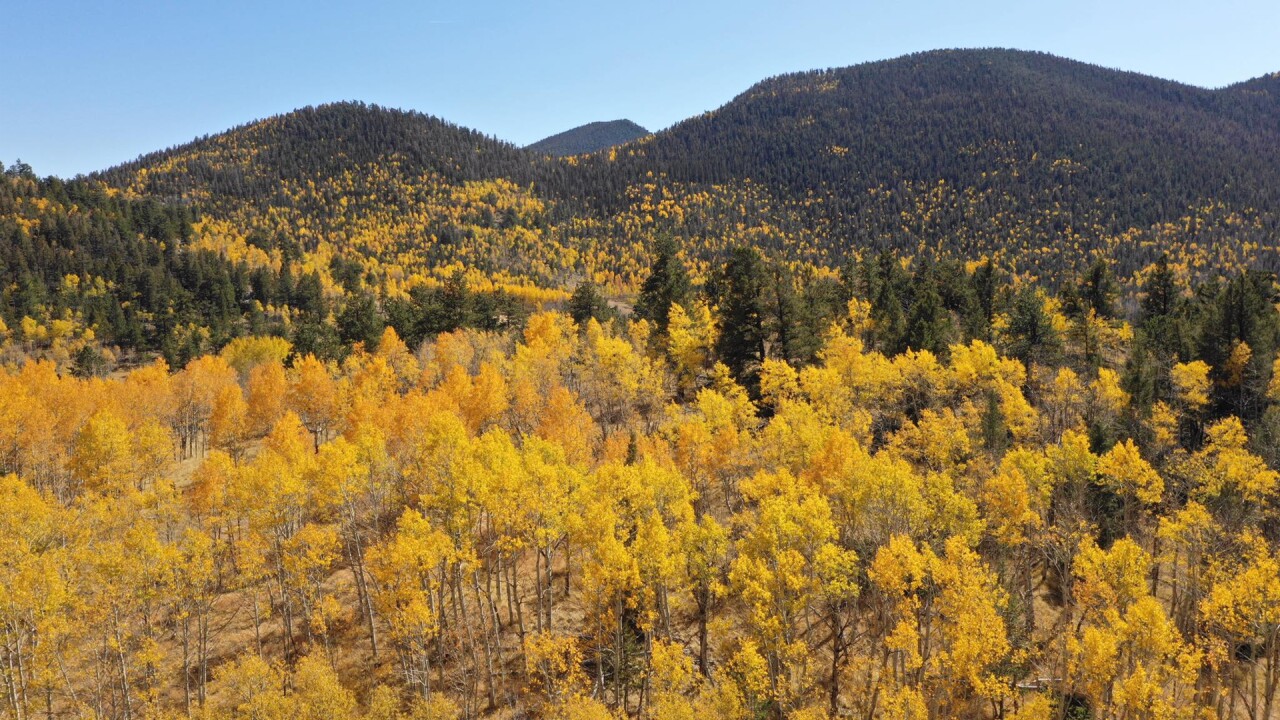 If you've driven out to Breckenridge or Buena Vista from Colorado Springs, you should know Wilkerson Pass well. The pass is a short, easy, and scenic drive about an hour west of Colorado Springs.
From the top of Wilkerson Pass, you'll get a beautiful, sweeping view of Park County. The mountains you'll see in the distance are part of the Sawatch and Mosquito range.
Our advice would be to park at the Wilkerson Pass Visitor Center and simply explore the area, especially southwest of the visitor center.
Plus the valley below is one of Meteorologist Alan Rose's favorite parts of the state.
Southern Colorado Drives - Cucharas Pass
Located in the Sangre de Cristo Mountains, Cuchara Pass is not to be missed!
Located south of La Veta, the peak here usually occurs from late September to early October, giving visitors plenty of time to see the changing leaves compared to neighboring passes in northern Colorado.
Cucharas Pass is not heavily traveled and gives you a beautiful view of the Spanish Peaks to the east, and the towering spines of the Sangre De Cristos to your west. The road is paved and pretty easy to drive for most vehicles.
---
FAMOUS COLORADO DESTINATION
Now let's take a look at some of Colorado's most well-known natural landmarks, many of them make perfect day trips for leaf peeping in the Colorado Rockies.
Maroon Bells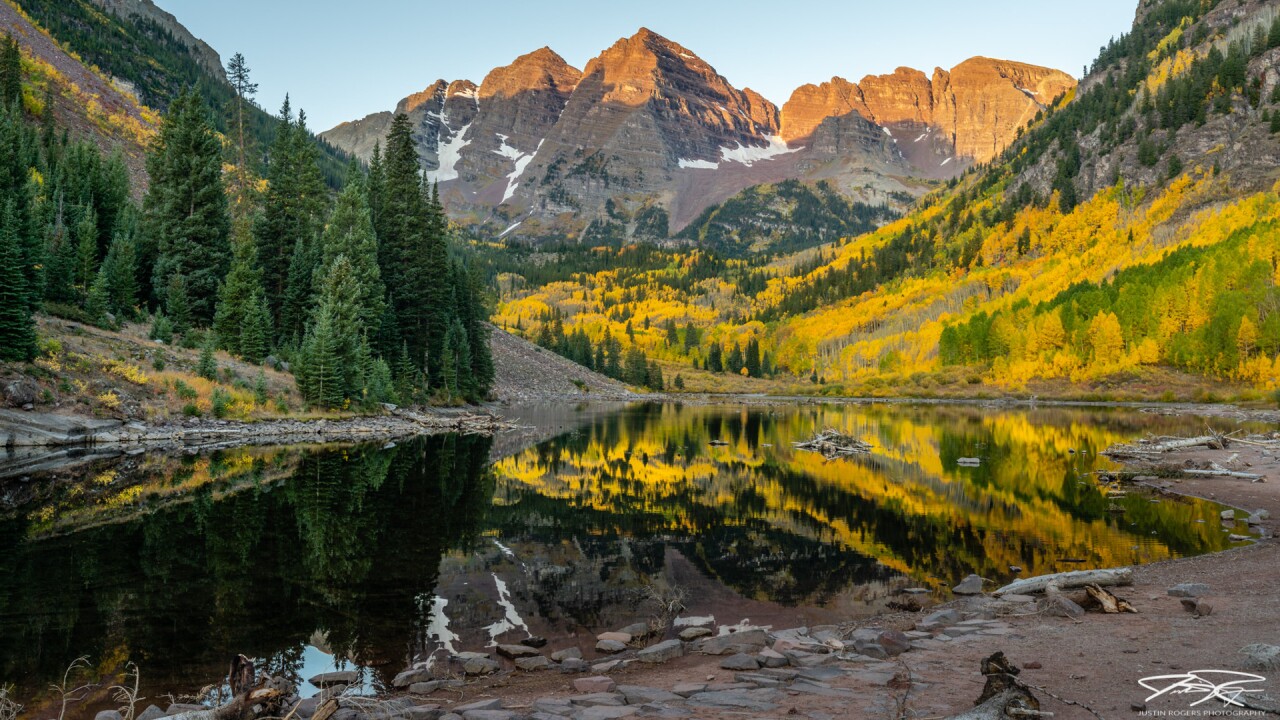 The Maroon Bells might be the top leaf-peeping spot in all of Colorado. Often regarded as the most photographed place in Colorado, the bells sit in front of a valley covered in aspen trees surrounding Maroon Lake.
Our advice is to do your research before visiting the bells (what you need to know).
Parking spaces at the Maroon Lake Trailhead are RESERVATION ONLY, and many spots are already taken. If you have a reservation, you can drive your personal car right up to your reserved parking spot.
There is a shuttle bus option to the base of the bells, but that also requires a reservation. Guests can arrive at Aspen Highlands and purchase their tickets in person for a first come first serve basis, but availability is not guaranteed.
Try to avoid going on weekends, especially Saturdays, as the bells are one of the most popular places to see fall foliage in the entire state.
Crystal Mill
Crystal Mill is an old power station built back in 1893, located about 5.5 miles east of Marble. The mill sits on an outcrop above the Crystal River and has not been in use since 1917 when the Sheep Mountain Mine closed.
Crystal Mill is only accessible in the fall and summer months by a rough, one-lane highway.
High clearance, 4-wheel-drive vehicles are recommended, but the mill can also be reached by foot, a mountain bike, or a guided jeep tour. Click here for more information on Crystal Mill.
Rocky Mountain National Park
Not only is it one of the most popular national parks in the entire country, but Rocky Mountain National Park also boasts amazing fall color views!
You'll see yellow aspens and fall foliage pretty much anywhere in the park, but we recommend Trail Ridge Road, Glacier George Trail, Bear Lake Road, and Grand Lake in particular.