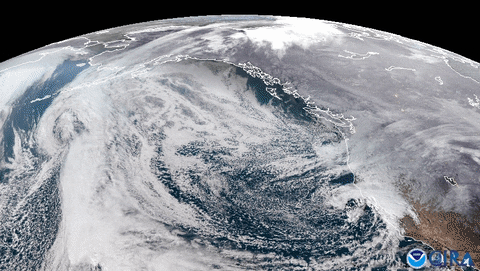 NOAA's new weather tracking satellite, GOES-17, has completed it's first week of operation across the western United States. This new satellite aims to improve weather forecasting, as well as aid in the tracking of real time weather and events such as severe storms, fog and wild fires.
Launched on March 1, 2018, GOES-17 joins GOES-16, also known as GOES East, the first of NOAA's new fleet of advanced weather satellites, to deliver high-resolution visible and infrared imagery and lightning observations of more than half the globe — from the west coast of Africa to New Zealand, and from near the Arctic Circle to the Antarctic Circle.
GOES-17 is providing both increased and improved data over the Pacific Ocean, where observations were previously limited, and where many weather systems that affect the continental U.S. originate. The increase in data coupled with sharper and more precise views of hazardous weather systems over the ocean is leading to better marine and aviation forecasts for those traveling across the Pacific Ocean.
Fog and icy conditions often cause flight delays and impact airport operations. GOES-17 allows forecasters to predict, with greater accuracy than before, the timing of fog and cloud formation and when it will clear, helping to mitigate ground delays.
Also among the benefits of the satellite's high-resolution and rapid-scan capability is a significant improvement in detecting and analyzing wildfires and the extent of smoke coverage. New updates allow GOES-17 to help forecasters locate hot spots, detect changes in a fire's behavior, and predict a fire's motion better than before. This information helps firefighters on the ground combat fires more effectively and emergency managers plan life-saving evacuations sooner.