BOULDER COUNTY, Colo. — Hundreds of structures — including homes and businesses — have been destroyed in Boulder County following a fast-moving grass fire that forced evacuations in all of Superior and Louisville. It grew to become the most destructive fire in Colorado history.
You can view the fire perimeter below and interactively on Inciweb's website here (must zoom into the Boulder area — this fire is not yet labeled in Inciweb). You can also view the map and evacuation borders on Boulder County's website here.
Thursday's strong winds pushed the Marshall Fire to rapidly spread in neighborhoods and residential areas. It started around S. Cherryvale Road and Marshall Drive. As of 10:30 a.m., it had spread to about 6,000 acres.
Evacuations are in effect for this mapped area below of Boulder County.
Boulder County Office of Emergency Management says these are the current evacuation points:

North Boulder Recreation Center (3170 Broadway, Boulder)
YMCA of Northern Colorado (2800 Dagny Way, Lafayette) (Mental Health Partners are on site at this location to provide support)
Rocky Mountain Christian Church (9447 Niwot Road, Longmont)
Longmont Senior Center (910 Longs Peak Avenue, Longmont)
1STBANK of Broomfield (1450 Broomfield Lane, Broomfield)
If you are COVID-positive and must evacuate, go to the COVID Recovery Center at Mt. Calvary Lutheran Church (3485 Stanford Court, Boulder)
Click here to sign up for emergency alerts in Colorado. You can call the Boulder County Emergency Call Center at 303-413-7730. You can donate to Thursday's fire victims through the Denver7 Gives Fund. Just click here and select "December Wildfires" in the drop-down menu below or by clicking in the image below. Here are more ways to help.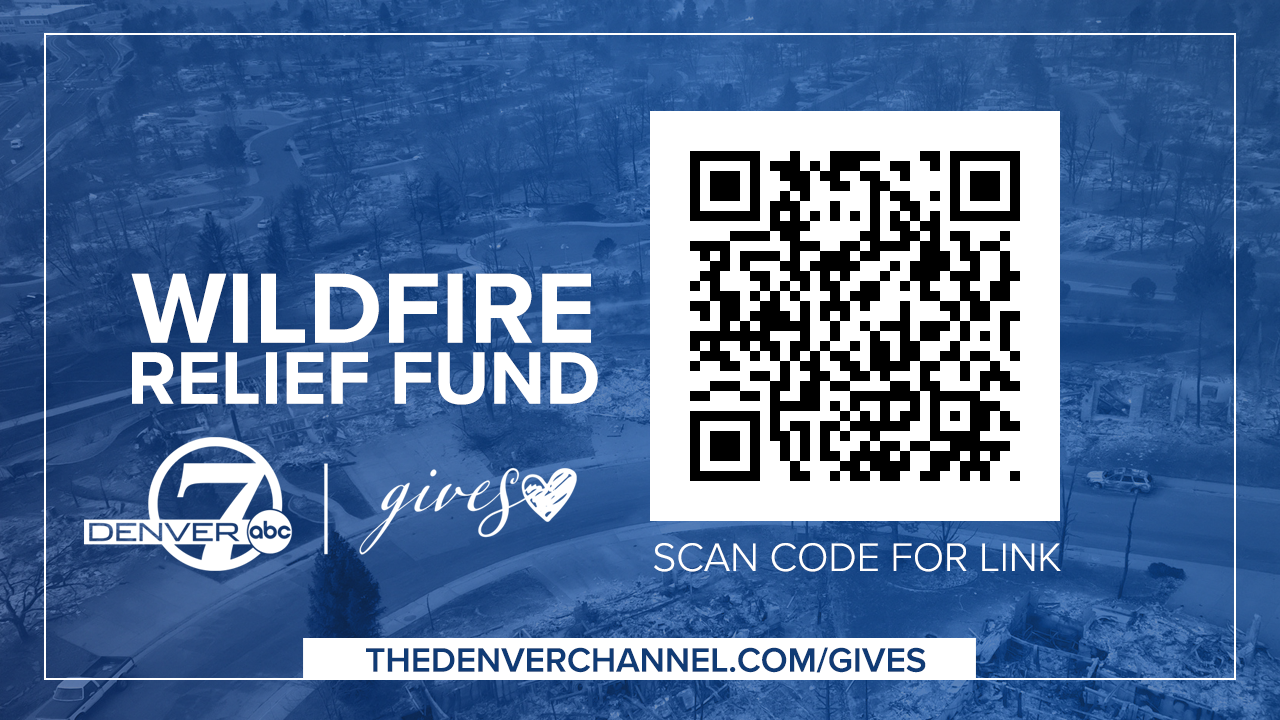 Local News
Help your Boulder County Neighbors | Donate to Denver7 Gives Wildfire Fund
2:53 AM, Dec 31, 2021
Chopper video shows devastation in Boulder County caused by Marshall Fire
Below are live updates from Friday:
11:29 p.m. | Investigation underway into cause of Marshall Fire
It could take days or longer to officially confirm what may have caused the Marshall Fire to initially spark.
Investigation underway into cause of Marshall Fire
11:28 p.m. | Rock Creek subdivision evacuees return home to see what's left after Marshall Fire
As snow fell Friday, residents who live in the Rock Creek neighborhood returned to see what was left after the Marshall Fire.
Rock Creek subdivision evacuees return home to see what's left after Marshall Fire
8:45 p.m. | 5,500 customers in Boulder area remain without power, 13,000 without gas
In the Boulder area, 5,500 Xcel Energy customers are without power and 13,000 customers are without natural gas service following damages from the fires and hurricane-force winds Thursday.
The remaining natural gas outages are largely in Superior and Louisville. Xcel had to turn off natural gas service to customers Thursday at the request of public safety officials to minimize safety concerns related to the wildfires. Crews have been evaluating the situation throughout Friday.
Xcel said customers who were not in the restricted access area can expect to have electric service restored by Saturday evening, which includes about 2,800 customers.
It will likely take several days for some customers to have their service restored. Customers can get the latest restoration information here.
Xcel provided recommendations for customers who are able to return to their homes after evacuation orders are lifted.
Protecting your water pipes:

If the indoor temperature dips into the low 40s, it's a good idea to drain water pipes. Shut off the water supply and open all faucets including the water heater. If you have an electric water heater, drain the hot water heating system by turning it off and leaving the valves open.
If the indoor temperature in your home is above 40 degrees, but you are worried about your pipes, leave a slow trickle of water running from the faucets. Flowing water will not freeze as quickly as standing water.
You can also contact a plumber to winterize and protect your plumbing while your heat is out.
Before draining pipes, you may want to collect water in clean containers for drinking purposes.
Only a qualified professional should attempt to electrically thaw frozen pipes. A broken or corroded pipe, a plastic coupling on a pipe or any wiring defect might result in a misdirected current and potential damage.
Keep your house from cooling down:

Pick up a free electric heater at the Red Cross shelter at YMCA in Lafayette at 2800 Dagny Way or at the Boulder YWCA at 2222 14th St. between 8 a.m. and 8 p.m. each day through the weekend.
Keep blinds and drapes open when it's sunny to maximize heat in your home. Close them at other times to keep the heat inside.
Avoid opening doors.
Use alternate heating sources safely:

Use a fireplace or wood stove if available. Make sure that your chimneys and flues are clean and unobstructed, and you have proper ventilation. When using a wood-burning fireplace, be sure the damper is open, and the chimney is free from obstructions and efficiently draws smoke outside.
Never use outdoor barbecues, kerosene heaters or camping heaters because they emit carbon monoxide.
As an important safety reminder, if you ever detect a sulfur or "rotten egg" smell inside or near your home, it could be the odorant we put in natural gas to help detect leaks. If you notice that smell, leave your home immediately. Do not turn any electrical devices on or off and never use any phone until you are outside and safely away from the area. Then, call Xcel at 1-800-895-2999. In a life-threatening emergency, call 911.
7:27 p.m. | Emergency Call Center closing early
Due to low call volume, the Emergency Call Center, (303) 413-7730, will close 8 p.m. Friday instead of 9 p.m. and will reopen at 9 a.m. Saturday.
6:57 p.m. | Space heaters available for people without power
With many still without power and cold temperatures in store, space heaters are available for those in need.
The Boulder County Sheriff's Office says Xcel Energy is distributing electric space heaters at the shelter at the YMCA in Lafayette at 2800 Dagny Way or at the YWCA in Boulder at 2222 14th St. between 8 a.m. and 8 p.m.
Space heaters are not available at the Bob L. Burger Recreation Center at 111 W. Baseline Rd. in Lafayette.
6:48 p.m. | WeeCycle hosting mobile market to provide baby supplies
WeeCycle will host a pop-up distribution event to provide families displaced by the Marshall Fire access to baby essentials.
The event will be held at 720 Front St. in Louisville on Monday from 11 a.m. to 1 p.m.
The baby supplies available will include diapers, wipes, baby food, formula, bottles, pack and plays and clothing. Food resources will also be available.
The event is being held in partnership with children's clothing store Pitter Patter and other downtown Louisville businesses, nonprofit food banks, Conscious Alliance and We Don't Waste.
Traffic will be directed down the alley and resources will be handed out utilizing a drive-thru method. COVID-19 precautions will be in place.
Those interested in donating can do so at weecycle.org/give or by texting "weecycle" to 56651.
6:40 p.m. | Boulder Valley School District buildings spared from fire
The Boulder Valley School District was able to confirm Friday that their buildings were not destroyed during the Marshall Fire.
BVSD maintenance teams were given access to the evacuation zone Friday morning. While the district's buildings were not destroyed, some were impacted by heavy smoke and several remain without electricity, gas, water or access to the general public.
It's not clear whether classes can resume next week, but in a letter, the superintendent said their goal is to resume classes at all of their buildings as soon as possible. Several factors are out of the district's control, including restoration of utilities and heat, the reopening of streets in the area and the effect on staffing — with many teachers and staff directly impacted by the fire.
BVSD is hoping to have a better understanding on the level of impact to the schools in the area of the fire and throughout. the district in the next day or two.
Information regarding the fire impact to BVSD will be posted here.
Parents and guardians of families in the district impacted by the Marshall Fire can reach out to their principal or fill in this form, which will ensure that support and resources are available to those who need it. Students who are displaced by an event like this are eligible for additional support under the federal McKinney-Vento Act.
Employees impacted should contact their supervisor or fill in this form.
Social emotional support is also available for students and employees.
6:06. p.m. | More communities under boil water advisory
The Boulder Office of Emergency Management has placed San Souci Mobile Home Park, East Boulder County Water District and Eldorado Artesian Spring water users under boil water advisories.
This is in addition to early advisories already issued for Louisville and Superior.
The Colorado Department of Public Health and Environment says all residents under the advisories should use bottled water and boil any water they drink, and use for cooking, washing dishes, brushing teeth or to make ice.
5:57 p.m. | Broomfield Detention Center reopens
After evacuating all inmates during the Marshall Fire Thursday, the Broomfield Detention Center says it has reopened.
All of the inmates had to be evacuated from their location at 11600 Ridgeway Pkwy. to another facility. All of the inmates have now returned to the jail.
5:55 p.m. | CONG assisting with wildfire response
The Colorado National Guard has sent guardsmen to assist during the wildfire response in Boulder County.
Approximately 56 members of the Colorado National Guard have responded after Gov. Jared Polis declared a state of emergency, which authorized the use of unarmed CONG assets for law enforcement purposes supporting direct consequences of this event.
"People are our first priority," Adjutant General of Colorado, U.S. Army Brig. Gen. Laura Clellan said. "In the midst of the longest activation in our states history supporting the COVID-19 response our dedicated CONG members are adequately prepared and trained to support the Boulder County, Superior and Louisville communities during this tragic event. Our hearts go out to those affected, we are neighbors and we're in this together."
The CONG will assist with traffic control, security operations and evacuation of displaced community members from the areas affected by the disaster.
Additionally, around 200 CONG members will augment personnel around the state to assist with COVID-19 testing operations surge for the next 31 days beginning Jan. 1, 2022 at the request of the Colorado Department of Public Health and Environment.
5:45 p.m. | Sen. Hickenlooper releases statement on Marshall Fire
U.S. Senator John Hickenlooper released the following statement regarding the Marshall Fire:
"This morning, thousands of Colorado families woke up unable or unsure if they will be able to return home. The Marshall Fire is horrible and devastating. Our thoughts are with Boulder County, especially the evacuees. We owe immense gratitude to our first responders — their heroism saved countless lives.
"We have been in touch with local, state, and federal officials and have pledged every resource possible to assist with recovery. FEMA has already activated federal firefighting assistance and President Biden committed to quickly approving a Major Disaster Declaration, which means even more help is on the way. This catastrophe is incredibly painful, but together we'll get through this and build back stronger."
5:43 p.m. | Centennial Peaks Hospital building safe from wildfire
Centennial Peaks Hospital confirmed Friday all of their staff and patients were able to evacuate safely and their building survived the wildfire.
The building is currently closed, but Centennial Peaks Hospital plans to open as soon as it is safe to do so.
Centennial Peaks Hospital has started a GoFundMe to provide support for some of its staff who lost their homes.
The hospital reminds the community not to attempt to come there until the area is officially declared safe.
4:55 p.m. | Emergency call center hours
The Emergency Call Center for the Marshall Fire and Middle Fork Fire will close Friday evening at 9 p.m.
It will reopen for calls on Saturday at 9 a.m.
The phone number to reach the Emergency Call Center for assistance is (303) 413-7730).
4:53 p.m. | Fire safety recommendations from CDPHE
Health officials from the Colorado Department of Public Health and Environment provided the following tips for people impacted by the Marshall Fire:
Be sure to be up to date on the tetanus vaccine. Injuries can happen during fire recovery and when returning to burn areas. Anyone who does not have a documented tetanus dose within the past 10 years is recommended to receive a tetanus shot.
Follow all boil water advisories. There are currently boil water advisories in place in both Louisville and Superior. CDPHE says all tap water should be boiled before using it to drink, make ice, brush teeth, wash dishes and prepare food to avoid illness. Water should be brought to a boil and continue boiling for one minute before letting it cool to use. It is safe to shower in water without boiling it. Seek medical advice if you develop symptoms like nausea, cramps diarrhea and headaches.'
Many are still without power and may be using alternatives to cook and keep warm. Prevent carbon monoxide poisoning by avoiding use of generators, grills, camp stoves or other gasoline, propane, natural gas or charcoal-burning devices inside a home garage or camper. Carbon monoxide poisoning symptoms include headache, dizziness, weakness, nausea, vomiting, chest pain and confusion. Seek medical help immediately if carbon monoxide poisoning is suspected.
Wear an N95 mask around burning debris. N95 masks are the only masks that protect from smoke coming from burning debris where particulate matter levels can be high.
Wear gloves, long-sleeved shirts, long pants, shoes and socks to protect skin and wear goggles to protect eyes from ash during clean up activities.
Use a trusted source for questions about insurance or coverage. The Colorado Division of Insurance can help people with their insurance questions, whether that's getting the contact information for insurance companies and agents or asking how to file a claim. The Consumer Service Team can be contacted at (303) 894-7490, (800) 930-3745, DORA_Insurance@state.co.us or their website. Save all receipts on any expenses incurred, and try to start the claims process as soon as possible.
The CDC also offers additional safety info.
4:24 p.m. | Avista Hospital avoids direct fire damage
Avista Adventist Hospital in Louisville will have to remain closed for the foreseeable future but it did not sustain direct fire damage during the fire, leaders with the hospital and Centura Health confirmed after an assessment of the campus Friday.
The hospital has extensive smoke damage, which is why it will need to remain closed until professional cleaning, sanitation and air quality assessment can take place, the hospital said.
The flames did come within four feet of highly flammable oxygen tanks located on the west side of the building. Staff used hoses to fight back the flames, which the hospital says helped avoid a "catastrophic explosion."
"The high winds were driving the fire straight toward our hospital on the north side, so to return hours later and find no significant damage is truly a miracle," said Isaac Sendros, chief executive officer for Avista Adventist Hospital. "We are eternally grateful and thankful to the first responders who responded with urgency and have tirelessly worked since the fire first erupted in our community. Avista will be a light in the darkness as we support our friends, neighbors and community in this recovery."
The building remains without natural gas and is currently. relying on diesel power generators to maintain the boiler and heat systems.
Professional cleaning crews are already at Avista Hospital assessing the smoke damage and determining next steps needed to conduct a terminal clean and sanitize the hospital. Hospital teams are also evaluating the air quality, replacing filters, restoring air pressure and evaluating the viability of the surgical supplies.
The Colorado National Guard is support Avista's security team in securing the facility.
4:17 p.m. | Some Superior roads reopened to residents
As of 3 p.m., these areas have reopened to residents only:
- South of Coalton Rd., in the Town of Superior, between Hwy. 128 and Rock Creek Pkwy. Access will be off Hwy. 128.
- Bell Flatirons Apartments only with access off S. Tyler Drive.
3:52 p.m. | Metro Care Ambulance Services collecting items for wildfire victims
Metro Care Ambulance Services is also collecting items to help people impacted by the wildfire.
They're looking for the following items:

Blankets
Pillows
Toiletries, including toothbrushes, toothpaste, deodorant, floss, female sanitary products, dry shampoo, etc.
Clothing for adults and children, including sweatshirts, sweatpants, t-shirts, underwear, hats, gloves, scarves and coats
Gift cards for food and supplies, like Visa gift cards or gift cards for grocery stores or fast food restaurants
Durable water bottles
Dry and canned pet food
Phone chargers
Toys for children
Diapers and wipes
Masks

Donations can be dropped off at Metro Care Ambulance Services, which is located at 11111 E. Mississippi Ave. in Aurora.
For more ways to help, click here.
2:54 p.m. | A message from Louisville Mayor Ashley Stolzmann
Dear Louisville residents,

Of all the difficult messages I've had to share with you over the last two years, this is without a doubt the most painful.

Our community and our neighboring communities in Superior and unincorporated Boulder have suffered a tragedy resulting from the fires which ravaged our homes, businesses, and open space. None of us remain untouched by these losses in one way or another.

I have spent the last day working closely with the City's leadership team, Chief Dave Hayes, the Fire District, and the Sheriff's Office. I can assure you that although the City's buildings were evacuated, the City is still hard at work and we will get through this together.

First responders are still responding to this emergency and the City will continue to share information as it becomes available. I urge you to follow the Boulder Office of Emergency Management on social media or visit their updates page – see details below.

I am deeply grateful to all our Louisville's first responders who have been working tirelessly to protect our community and also to the first responders from all of our neighboring communities who answered the call and continue to support and protect our community.

There are a lot of unknowns right now, but what I do know, is that Louisville is a strong community full of people, who have supported each other during nearly two years of pandemic. I know we will continue to use our strength and community spirit to persevere and rebuild in the face of this tragedy.

Please remember that the evacuation order and the boil water notice are still in effect. Please do not return to the evacuation area until we have advised you that it is safe to do so.

If you're able to and are looking for somewhere to donate money or accommodation, please see the links below.

If you're needing mental health support after the events of the last 24 hours, please access the free mental health resources listed below.

As ever, Louisville, it is an honor to be your Mayor.

Mayor Ashley Stolzmann
2:50 p.m. | Coal Creek Meals on Wheels (CCMOW) is serving free meals to Superior and Louisville residents who were impacted by the Marshall Fire in Boulder County. All you have to do is sign up to receive free meals and complete the online meal delivery program application. There is a field on the application that prompts applicants to indicate that they were impacted by the Marshall Fire. Residents are also welcome to dine-in at the Coal Creek Cafe, CCMOW's on-site lunch program, free of charge.
The Coal Creek Cafe is open Mon. - Fri. between 11:30 a.m. - 12:30 p.m. Diners can also take meals to go.
2 p.m. | Highway 36 is open through Boulder County but McCaslin Boulevard exits remain closed.
1:35 p.m. | The light snow that fell around Boulder County this morning has returned. The area is expected to see several inches of snow by tomorrow morning.
1:05 p.m. | The Boulder County Office of Emergency Management said that the cause of the Marshall Fire remains under investigation, but Xcel Energy crews did not find downed powerlines in the area where it ignited. They did find compromised communication lines, but those would not typically cause a fire.
Initially, reports came in of downed powerlines in or near the ignition area. However, Xcel Energy inspected all of their lines within the ignition area and did not find any. They did find the compromised communication lines that may have been misidentified as powerlines.
1:10 p.m. | Denver7's Pattrik Perez is around Spyglass Circle and Saint Andrews Lane. Homes are destroyed there.
12:36 p.m. | The Humane Society of Boulder Valley is providing temporary shelter for dogs, cats and small animals of people affected by the Marshall and Middle Fork fires in Boulder County. HSBV also has free pet food and supplies for those in need.
If you need a temporary housing option for a dog, cat or small animal, you can bring the animal to the Humane Society at 2323 55th Street in Boulder during business hours. The shelter is open for animals in need today until 4 p.m.
11:19 a.m. | President Joe Biden spoke with Gov. Jared Polis Friday morning and pledged "every effort will be made to provide immediate help to people in the impacted communities."
"Gov. Polis described the impacts and the need for additional federal support, and the president assured him that every effort will be made to provide immediate help to people in the impacted communities," according to a statement from the White House.
10:55 a.m. | Several police officers in Boulder County lost their homes in the Marshall Fire, and the Colorado Fraternal Order of Police's Colorado Police Officers Foundation will help their families with a special fund.
Donations can be made securely at PayPal here. All donations are being processed through the Colorado Police Officers Foundation and are tax deductible.
10 a.m. | Boulder County Sheriff Joe Pelle said about 2,000 homes are in the burn area, but that doesn't mean 2,000 homes were destroyed. He said he did see entire subdivisions that were destroyed. He said the damage assessment is continuing and they won't have final numbers on destroyed and damaged homes until tonight or tomorrow, but he expects to learn at least 500 homes lost. This may increase to 1,000, he said.
Pelle said the fire has spread to 6,000 acres. He said they're calling it 0% contained, but are not expecting any growth today.
Sheriff: No known deaths as of Friday morning in Marshall Fire
Officials said nobody has died in the fire as of now.
Gov. Jared Polis said he spoke with President Joe Biden just before the press conference. Biden approved a major disaster declaration, which will be finalized in the next few hours.
9:30 a.m. | There is no longer a fire danger for residents within Lafayette city limits.
9:25 a.m. | Both Superior and Louisville are under boil water advisories.
The Town of Superior in coordination with the Colorado Department of Public Health and Environment issued a boil water advisory for the entire town on Friday morning. Use bottled water or boil any water to be used for drinking, making ice, brushing teeth, washing dishes, and food preparation until further notice.
In addition, the City of Louisville issued a boil water advisory for the entire city on Thursday.
9:05 a.m. | Xcel Energy said as of 6:30 a.m., 14,800 customers in Boulder County and 200 customers in Arvada are without electricity. Xcel will hand out space heaters and generators to customers who need them. To pick up an electric heater, stop by the Red Cross shelter at YMCA in Lafayette at 2800 Dagny Way. There will be a large tent located on-site with electric heaters available. The company is also working to have a second pickup location as well.
9:03 a.m. | US 36 is still closed in both directions between Colorado Avenue (Boulder) and CO 128 (Broomfield).
8:31 a.m. | All trailheads east of Highway 93 to McCaslin and south of South Boulder Road to highway 128 are closed.
7:59 a.m. | The Emergency Department at Good Samaritan Medical Center is now reopened. It's expected the Labor and Delivery department at Good Samaritan will resume normal operations at noon.
7:54 a.m. | The Salvation Army will provide support to give 1,000 meals three times a day to the people expected to need sheltering support and first responders.
Starting today, meals will get transported to the Lafayette YMCA (2800 Dagny Way, Lafayette) where The Salvation Army volunteers will plate and serve meals.
7:45 a.m. | As the sun rises over Boulder County, we're getting our first look at the catastrophic devastation for the fire.
6:45 a.m. | Superior Mayor Clint Folsom spoke with Denver7 on Friday morning.
"The priorities for this morning are going to be to continue to stabilize the situation there and make it safe so that residents can come back," he said. "I know that's probably the No. 1 priority of residents, is to get back in there and see what the situation is on the ground firsthand."
He said when he left last night as part of the evacuation order, a lot of the area was still burning.
Marshall Fire: Superior Mayor Clint Folsom provides update Friday morning
He noted the danger of debris across the community due to the high wind as well.
Folsom said the community is extremely grateful to the firefighters who came in to help with the Marshall Fire.
"We live next to some very beautiful open space but given the dry conditions over the last several months, and that combined with these winds and then a spark or whatever caused this — it was just a tragic combination of events that just drove that fire into the first homes and then it just swept it all the way east over our town and into Louisville," he said.
He said he drove some neighborhoods with the sheriff's office and town manager Thursday evening and it was "the most horrific conditions I've ever experienced."
6:30 a.m. | All mandatory evacuations and pre-evacuations in Broomfield have been lifted, according to the police department.
6:17 a.m. | Denver7's Veronica Acosta is around Arapahoe Circle and Willow Street in Louisville. She found one house standing in the neighborhood.
Friday morning Marshall Fire update: McCaslin and Washington
6:05 a.m. | Boulder Valley School District says it hasn't been able to visit its buildings. As of last night, security teams checked cameras and by all indicators, it appears the schools were not damaged.
5:15 a.m. | Denver7's Eric Lupher is walking around the areas of Bristol Street and Andrew Drive in Louisville to describe the damage in this neighborhood.
Friday morning update on Marshall Fire: Bristol Street and Andrew Drive
5:05 a.m. | The National Weather Service said the peak wind gusts Thursday were between 100 and 110 mph. 3 SSW Boulder recorded 108 mph, 1 NE Crisman recorded 102 mph and 3 NW Marshall recorded 90 mph. Click here to view the full list.
5 a.m. | The Boulder County Sheriff's Office will hold a media briefing at 10 a.m. today. Denver7 will stream this live on our Denver7+ streaming apps.
4:50 a.m. | Roads in Boulder are currently open. Most roads in Louisville and Superior are closed with restrictions around the hardest-hit neighborhoods.
4:40 a.m. | As of now, Denver7 has confirmed the following places were burned in the fire, though it's not clear how many structures were destroyed versus damaged:

Rock Creek neighborhood, south of Costco
Sagamore subdivision in Superior
Superior Market Place
Harpers Lake area (Davidson Mesa Trailhead)
Louisville Senior Recreation Center
Marshall Drive and Cherryvale Road
Avista Hospital area and Coal Creek Golf Course
Elements Hotel in Superior
4:30 a.m. | A winter storm will affect Colorado today, including Boulder County. The Boulder area is expected to see 6-8 inches Friday afternoon through Saturday afternoon.
Midnight | Mandatory evacuation and pre-evacuation orders for Broomfield have been lifted. Broomfield police say residents can return home. As of now, there is no danger outside of Boulder County.