DENVER — Colorado keeps breaking records when it comes to severe weather in 2023. Not only have the number of severe weather reports gone up in Colorado compared to previous years – but so has the number of very large hailstones reported across the state.
That's according to a summary of tabulated data released by the National Weather Service (NWS) in Boulder on Thursday, which showed that so far this season, Colorado has shattered all previous hail records going back to at least 2005.
"This year has just been kind of a standout year so far," said Robert Kleyla, a lead meteorologist at the National Weather Service in Boulder. "So far through Aug. 10, it does appear just based on the data since 1950 that we've pretty much broken all hail records that have previously been place."
And we still have two more months still to go until severe weather season's really over.
It's not clear how much more records we'll break when severe season's done with us – that's up to Mothe Nature – but so far this year, the number of reports across the state for two-inch hail nearly doubled from its previous record set in 2018 – from 91 to 170.
Reports of hail about the size of baseballs (over three inches in size) have nearly tripled since 2019 – from 12 to 34 this year.
So have reports of softball-sized hail (about four inches in diameter), with Coloradans filing 13 reports so far in 2023 with the NWS, nearly 3 times more than in 2005.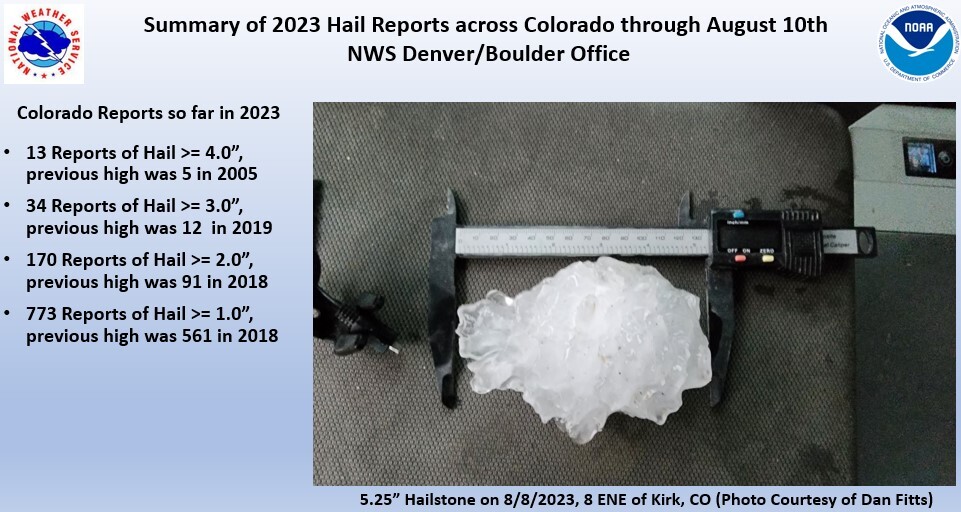 The increase in reports of large hailstones across the state this year is likely "due to the fact that there's just a lot more people out there chasing storms, and the weather service has made it a priority to get reports from the storm chasers as well," Kleyla said, explaining how the NWS started it making it more a policy to obtain and verify severe weather warnings back in the early 90s.
He also said it's really hard to say what has led to the increase in large hailstones or if they're even all that common to Colorado since heavy record-keeping has only been in place for the past 30 years or so, and the NWS can only go back to about the 1950s to look back at severe weather reports for the area.
Whatever the case may be, Kleyla also attributed the high number of hail reports across the state to the fact that severe weather has occurred in heavily populated areas, such as Colorado Springs, where very large hail has fallen this summer.
"You add in the fact that we've had more severe thunderstorms this year, and the fact that some of those storms – the stronger storms, at least – have occurred in areas that are populated (and) that's probably somewhat the reason why we've seen this increase in larger hail reports this year," Kleyla told Denver7.
A hailstone more than five inches in diameter was reported about eight miles northeast of Kirk in Yuma County on Tuesday. If confirmed by the state climatologist, it would break the record for the largest hailstone ever recorded in the state since 2019.
Kleyla said we won't know for sure if that's the case until sometime Monday afternoon.
This Colorado hail season is shattering records, according to National Weather Service data