COLORADO SPRINGS — New Life Church in Colorado Springs hosted the funeral for Colorado Springs Fire Department Driver-Engineer Bobby Keese on Thursday. The public was invited to attend the service honoring his 30 years of service with the city.
Keese died unexpectedly while off-duty. He was assigned to Station 22 on the north side of the city.
The funeral events for Keese included a procession from a funeral home to New Life Church. CSFD asked people to line to to be announced route to honor Keese. Anyone who wished to attend the services at New Life arrived by 10:30 a.m., the funeral began at 11 a.m.
The funeral services opened with Father Brad Newman reading the Fireman's prayer.
Newman then asked that "you never...forget those stories that make this department such a wonderful department."
Colorado Springs Mayor Yemi Mobolade was next to speak. He remarked, "We mourn not just the passing of a great firefighter, but the departure of a beloved family member, a cherished friend, a great mentor and a dedicated public servant."
Fire Chief Randy Royal was up to speak next. He went through Keese's history with the Fire Department and detailed the awards and recognition he attained during his service.
At one point Fire Chief Royal detailed something that Keese's captain at the time had said about Keese. According to his old captain, "Bobby takes pride in his position, he employs strong work ethics, and the combination of these two proves to provide an excellent role model for younger firefighters. He is humble. His 'How else can I help you?' attitude is always apparent and is a true asset."
After Fire Chief Royal's speech, a photo montage of Bobby Keese and his loved ones played.
After the photo montage was the ringing of the bell, the folding of the flag and the presentation of Keese's badge.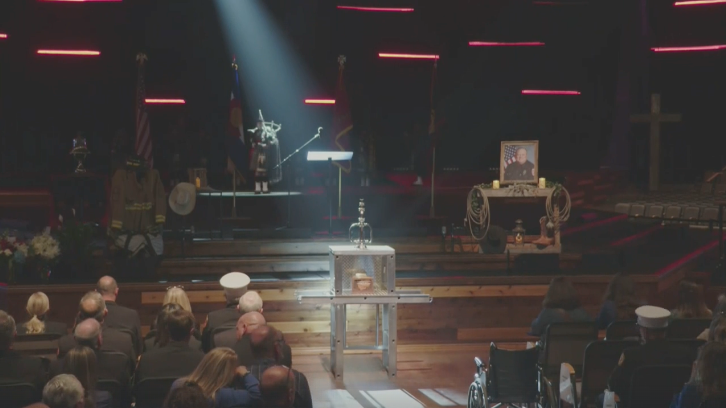 "I worked with Bobby over the years, and for those that did not know him, I can say he would rate the 'one of the nicest guy' categories," Fire Chief Randy Royal said in a news release. "He was always willing to help others and served our citizens with excellence."
Keese grew up in the fire service. His father was also a Driver/Engineer for CSFD who joined the department in 1969.
"He was one of our best driver engineers," said Wanderscheid, "He was the driver engineer that the best called for advice. And that's why he won last year in 2022 the very first mentorship award," explains CSFD's Jeff Wanderscheid.
Wanderscheid who has been a colleague and close friend of Keese for close to 25 years also wants the community to know about the man the department is mourning.
Keese's large physical stature got people's attention while his friendly nature put people at ease.
"He was a presence in the room, but he is a calming presence. So, he can come into a medical emergency, and I've been on many with him," said Wanderscheid, "And he just kind of brought some order to some chaos."
____
Watch KOAA News5 on your time, anytime with our free streaming app available for your Roku, FireTV, AppleTV and Android TV. Just search KOAA News5, download and start watching.