Spring starts in less than a week and Colorado is showing no signs snow of slowing down.
Despite lackluster snow across the Arkansas basin, western Colorado is seeing one of the snowiest seasons since 1990!
Key Takeaways:

Snow production in late Winter and Spring is crucial for water supply in the growing season
Only the Arkansas River Basin is below normal
Every basin in western Colorado is in the 80th or 90th percentile of snow water equivalent this season
We have roughly 23 days until the typical peak in snowpack across the state
Despite lackluster snow in the Fall, Colorado continues to build an above-average snowpack.
Most basins are either at or above normal, with the exception being the Arkansas River Basin.
Snowpack across Colorado in general was pretty close to normal from November through Christmas, but things have only improved in the new year.
Several big storms in January, February, and now March have kept the statewide snowpack well above normal.
With more snow in the forecast through next week and only 3 weeks left until the typical peak in snowpack, we can log 2022/2023 as a successful snow season.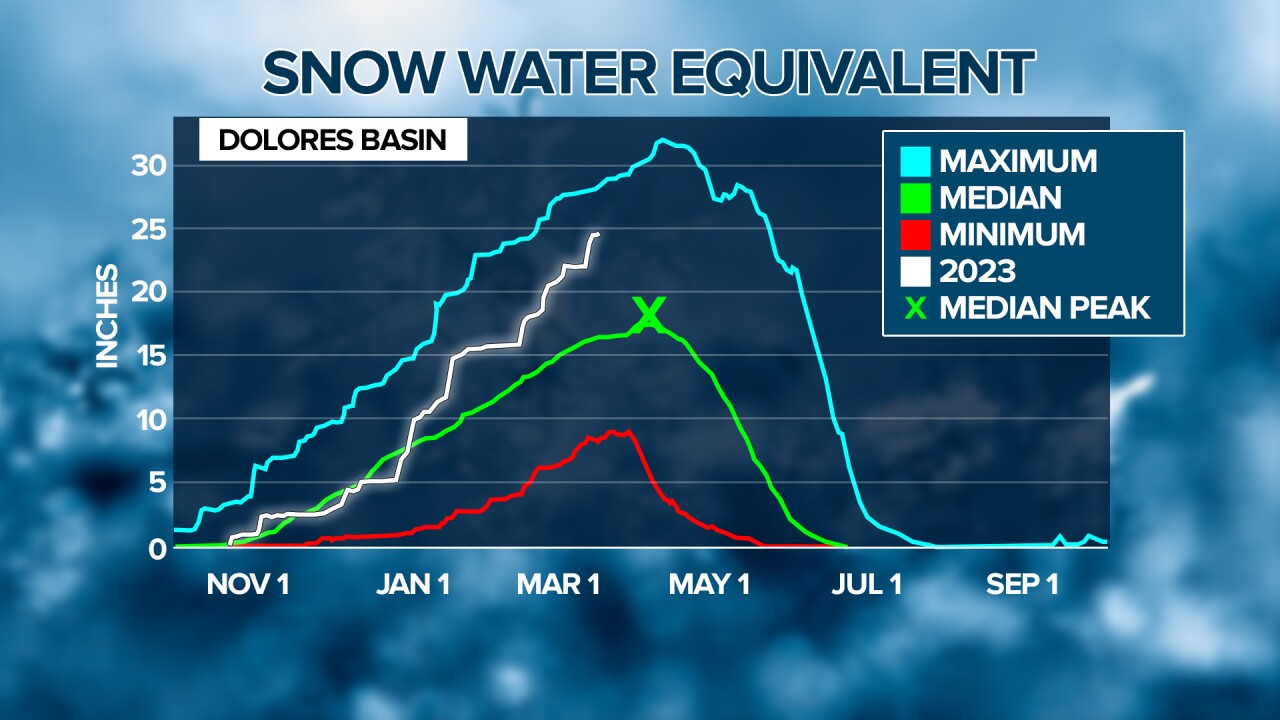 One of the snowiest areas in the state has been the San Juan/Dolores basin.
As of March 16t, this basin has 54% more snow than normal for this time of year.
It's been one of the snowiest years in the San Juans since 1990 with 400 inches of snow recorded at Wolf Creek Ski area!
Reservoir storage in this region is only at 70% of the thirty-year average.
As long as we don't see high heat and rapid evaporation, the extra snow will melt down and provide lakes and reservoirs with much-needed moisture in the warmer months.
The Arkansas River Basin has had the lowest snowpack in Colorado since the start of the season.
Southwest flow snow storms are great for the San Juans, Crested Butte, and Monarch Pass, but not particularly helpful for the Sangre De Cristos or the Collegiates.
As we head into the warmer months, below-average snowpack won't melt as much water into our reservoirs, streams, and rivers. This could mean lower-than-normal lakes in the summer and less water for irrigation in the growing season.
The John Martin Dam, a major supplier for irrigation in the plains, is only at 6% capacity. Less water from snowmelt could mean extra water needs to be released upstream at the Pueblo Reservoir to keep the dam full in the summer.
____
Curious about the First Alert 5 Weather Storm Impact Scale? Check out our cheatsheet explainer.
Watch KOAA News5 on your time, anytime with our free streaming app available for your Roku, FireTV, AppleTV and Android TV. Just search KOAA News5, download and start watching.