A potentially dangerous storm packing high wind, rain, and snow has its eye set on Colorado from Wednesday into Thursday. While this storm doesn't look as strong as the Bomb Cyclone, it will still probably pack a punch.
How does this storm compare to the Bomb Cyclone?
The bomb cyclone was such a rare and tremendous event that it set a low-pressure record out in Prowers county with 970 millibars, the lowest pressure ever recorded in the state of Colorado. The storm set to hit Colorado on Wednesday will be strong, but nowhere near as strong as the Bomb Cyclone.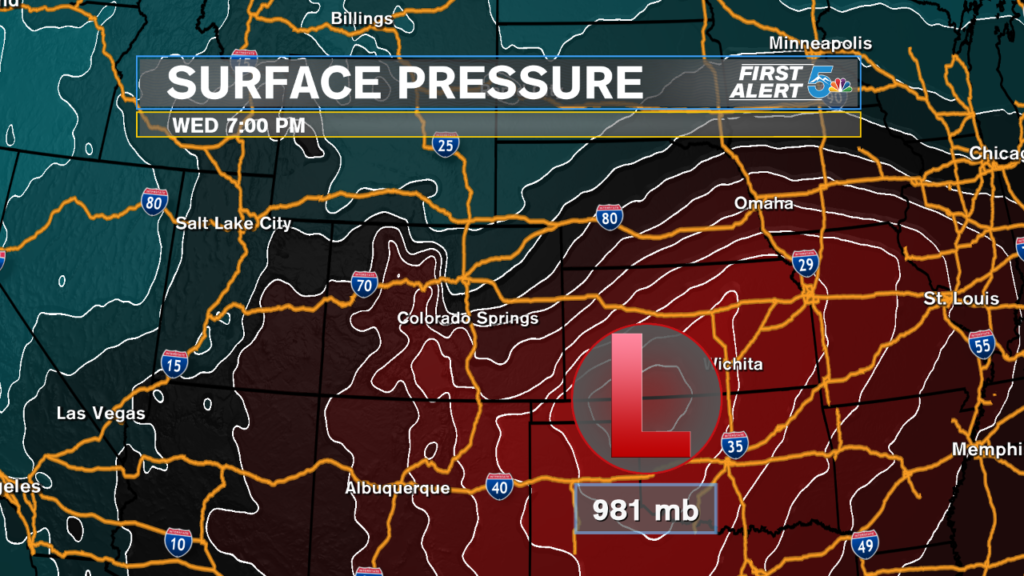 Why compare this to a hurricane?
Really just for two reasons: fun and perspective. The fun part is just thinking about how a storm on land could be anywhere as big as a hurricane! The better reason, perspective, is that you know and have seen how big hurricanes can get, so you mentally have a good picture to compare this storm against.
Low-pressure systems on land and hurricanes are really the same thing, one just sits over the ocean. Warm ocean water can feed a hurricane better than dry land, which is why hurricanes typically grow larger than low-pressure systems (cyclones) on dry land.
Current forecast models project the lowest pressure levels in this storm to reach right around 981 millibars, which is just 2 millibars away from having the pressure classification of a Category 1 Hurricane. The Saffir-Simpson Scale says a central low pressure must be below 980 millibars to compare to a cat 1 hurricane.
What should we expect Wednesday?
Quite frankly, there are still a lot of uncertain aspects about this storm that won't become very clear until the energy feeding the storm gets out of the Pacific Ocean. Very warm air temperatures will be working against snow production, and we're still waiting to see exactly where the low-pressure system will track.
What seems pretty certain is that southern Colorado is going to see rain turn to snow with very strong winds and blizzard-like, whiteout conditions from Wednesday afternoon to early Thursday morning.
Early snow estimations hint at a lot of the snow melting during the first few hours of the storm, meaning that overall accumulations will be on the moderate to low side. Nearly all of southern Colorado will see snow, but it's really only going to be able to stick up in the mountains and over the Palmer Divide.
The winds, as mentioned earlier, will likely be the biggest threat from this storm. Wind gusts between 40 to 60 mph will mean low visibility, drifting snow, and whiteout blizzard-like conditions, especially Wednesday evening.
Wednesday's storm system is going to bring rain, snow & cold, but once again, the winds will probably be the biggest threat from this system. Projected wind gusts range between 40 to 60 mph along and especially east of the interstate Wednesday afternoon to early Thursday morning. pic.twitter.com/CdWbrXvyq8

— Sam Schreier (@SamASchreier) April 9, 2019
The biggest thing everyone can do is watch our forecasts over the next 48 hours and bear with any changes we make. This type of system is extremely difficult to predict, and until the energy driving it comes off the Pacific Ocean, we will have plenty of adjustments to make.