PUEBLO – The Pueblo Zoo is getting ready to host a special event for animal lovers- the chance to camp out at the zoo.
The event is called Overnight with the Animals and it is making a return for 2018. The new De Brazza's monkeys are right next door to where the event takes place, along with the African lions, African painted dogs, African crested porcupines and the meerkats.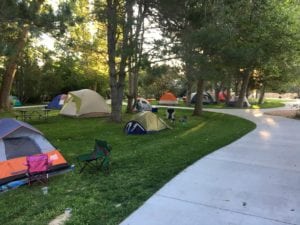 The event starts at 5:00 p.m. on Saturday, August 11th and runs through 9:00 a.m. on Sunday.
Here is a look at pricing for those who want to take part:
$35 members / $40 non-members
$100 family of 4 members
$120 family of 4 non-members
$20 each additional family member
Those in attendance will have dinner, an exclusive tour of the zoo, camp games, stargazing with the Southern Colorado Astronomical Society as well as breakfast the next day and zoo admission all day Sunday.
Click here for more information from the zoo, including what to bring. Keep in mind, all children must be accompanied by an adult.