CHERRY HILLS VILLAGE – A Cherry Hills Village police officer is at Swedish Medical Center in Englewood after he was shot in a shootout with suspects of a home invasion on Sedgwick Drive near Hampden Avenue and Colorado Boulevard in Arapahoe County.
Four suspects are on the run and law enforcement continues to look for them.
The officer is a six-and-a-half-year veteran of the department. He is in stable condition with injuries to his leg and ankle, according to Commander Patrick Weather, with the Cherry Hills Village Police Department.
The officer was one of two officers who responded to the home after a 911 hangup call from inside the house at 10:50 p.m. Monday, according to Weather.
The two officers responded to the home and found the door open. One officer went inside the home and saw two men. Gunfire was exchanged between one officer and the two suspects.
It is unclear if either suspect was injured during the shooting, but both suspects fled on foot.
The homeowner and family were able to get out of the house and to a safe location. According to Weather, the scene is contained to the one house. Neighboring homes were checked and determined to be safe.
There is no clear description of the suspects other than they were wearing black. The homeowner does have security cameras that police are checking.
Several hundred homes received an emergency call informing them of the situation.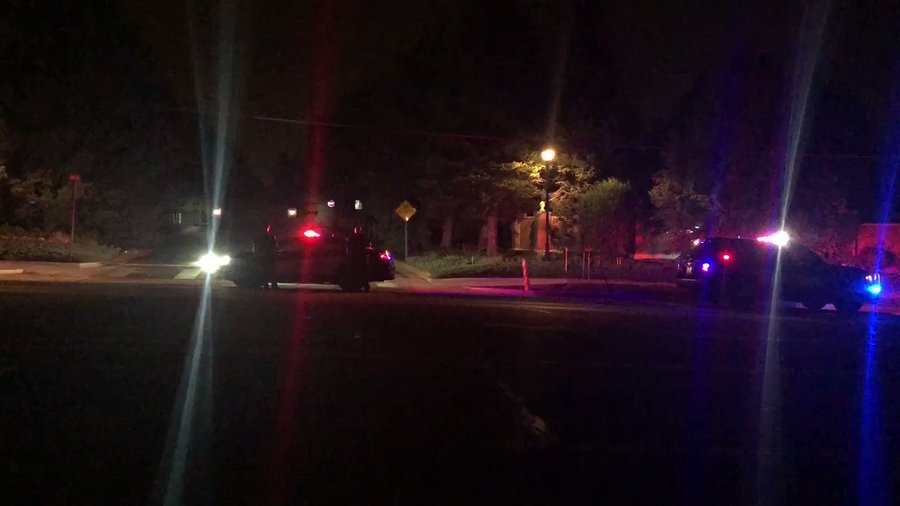 Several agencies including Greenwood Village, Denver, Jefferson County and Arapahoe County Sheriff's Office are assisting with the search and investigation.
Cherry Hills Village is south of Denver in Arapahoe County.