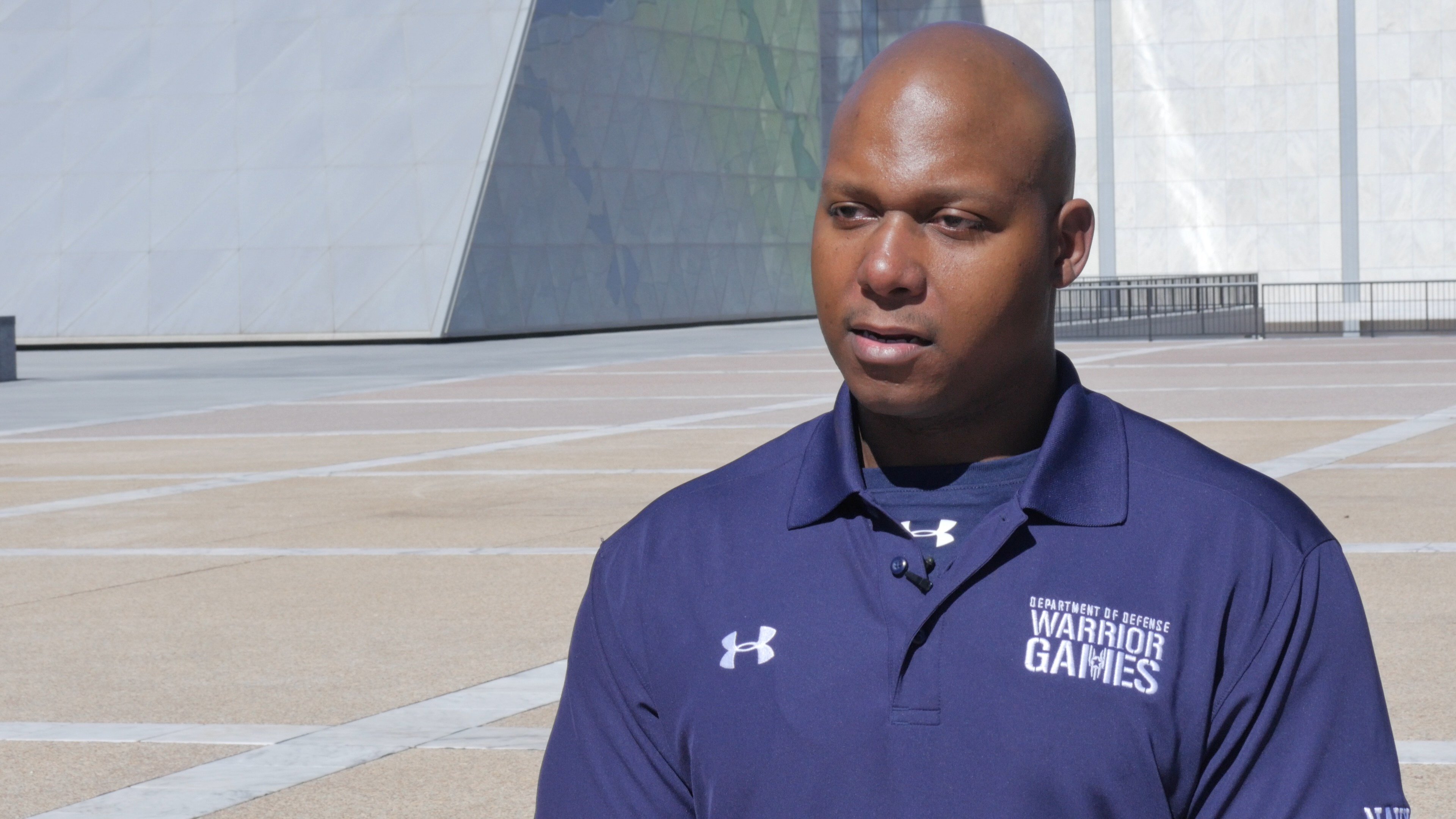 We're just days away from the beginning of competition at the 2018 Warrior Games at the Air Force Academy. Hundreds of athletes will compete in the Paralympic style competition, including our latest warrior profile, Navy Petty Officer Second Class, Mario Ingram.
Ingram has spent eight years in the Navy, with three deployments so far, including Afghanistan, and a stint at Guantanamo Bay, Cuba. The 34-year-old is a quiet, shy, introspective man, who is currently based out of Jacksonville, Fla. He is a multi-sport athlete for the games, competing in archery, cycling, track and field, sitting volleyball and wheelchair basketball.
In 2016, Ingram had a life changing experience. He was diagnosed with non hodgkins lymphoma and underwent several rounds of chemotherapy surgery to remove lymph nodes.
Ingram told me he thought he was going to die, "It felt surreal, because we always used to seeing everything on television until we actually go through the situation, we never empathize with people, so it shook my world up."
That diagnosis changed his life. He did a lot of soul searching as he underwent treatment. Before he found out he was in remission, he received that positive diagnosis, he thought about giving up.
He ultimately came to terms with his situation and began the process to recover mentally through sport. First, he tried skydiving, and he loved it. After that, he asked anyone who would listen, "What else is there?" That's when someone told him about the Warrior Games. He decided to give it a shot, and the rest is history.
Ingram said he loves the competition and his fellow competitors, who he says are all very competitive. His perspective on life and his situation has changed through athletic competition, because he saw other warriors who are in much worse shape than he is.
His mantra is transformational, he said just because you come down with something, that doesn't actually mean a death sentence. He has started to see the bright side of life and others who compete in the games.
It's an attitude, frankly, that permeates all of these athletes, who will compete in more than a dozen events. The games begin on Friday, June 1 and run through June 9. The games are free to attend and the public is welcome. The opening ceremony on Saturday will feature a free concert by Kelly Clarkson, and a keynote address by comedian John Stewart. KOAA 5 is a proud sponsor of the games.