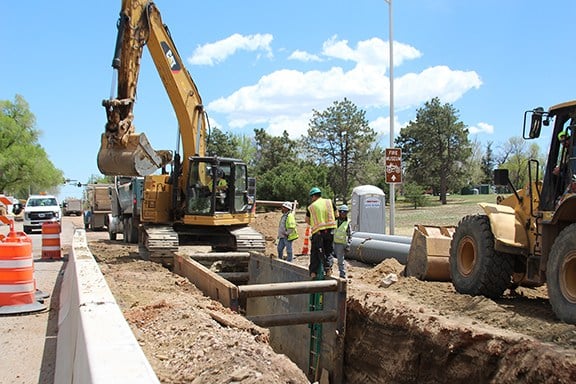 (Photo of the construction site taken in May 2018. Courtesy: City of Colorado Springs)
A stretch of Pikes Peak Avenue will be closed in Colorado Springs for approximately one month due to a project to replace 60-year-old underground utilities.
Starting Monday at 8 p.m., the street will be closed from S. Institute Street and E. Colorado Avenue. Drivers should follow detours in the area, which divert eastbound and westbound traffic to Institute Street and Colorado Avenue where they will be able to eventually reconnect with Pikes Peak Ave.
The city said the detour will not have stoplights and stop signs in order to allow traffic to move quickly through the area. As a result, no parking will be allowed on S. Institute Street or on E. Colorado Avenue.
Delays are expected in the area, and drivers should avoid the detour if possible.
CLICK HERE to access the city's web page about the project, which started last September. The entire project is expected to fully wrap up in 2019.