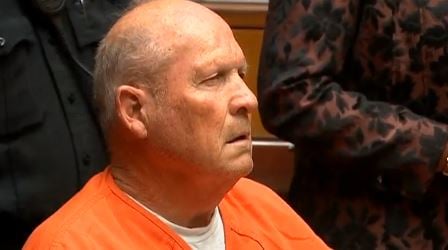 The man accused of being the Golden State Killer did not enter a plea during his first court appearance.

Joseph James DeAngelo was arraigned Friday in Sacramento County Superior Court on two counts of murder.

He was handcuffed in a wheelchair and five police officers surrounded him as he listened to the judge with his eyes barely open.

A court official read the details of the charges that DeAngelo is facing and a judge asked if he had a lawyer. DeAngelo appeared in a wheelchair and was wearing an orange jumpsuit.

In a frail voice, DeAngelo responded, "I have a lawyer." An attorney from the public defender's office was with him in court.
Sacramento County Sheriff Scott Jones has said DeAngelo was in a psychiatric ward of the county jail and has said little. Jones says there's been "quiet reflection" and mumbling.

Jones says investigators are sifting through every item, receipt and piece of paper from DeAngelo's home. They're searching for any possible clues to tie him to more than 170 crimes authorities believe he may have committed.

DeAngelo has been denied bail.
(Copyright 2018 The Associated Press. All rights reserved. This material may not be published, broadcast, rewritten or redistributed.)