PUEBLO -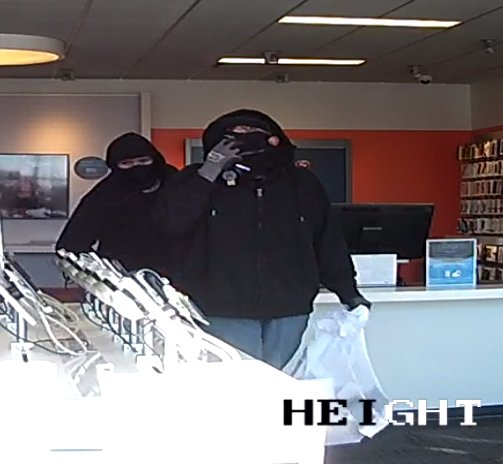 Pueblo Police are asking for help to identify two masked men who robbed an AT&T store off of W. Northern Avenue Thursday morning.
Police said two men drove to the store in a silver four-door sedan with light tinted windows around 10:30 a.m. Thursday. The men pulled out handguns and stole phones from the store, loading them into white mesh laundry bags.
The store clerk was not hurt in the robbery.
They are described by police as light-skinned, in their late teens to early '20s, with a slender build, about 5'10" tall.
They were wearing black hooded sweatshirts, baseball caps, black masks, blue jeans with white shoes. One suspect was wearing black gloves with orange trim, and the other suspect was wearing gray gloves.
The suspect with the black gloves had a Star Wars rebel alliance symbol on his sweatshirt and a gold sticker on the bill of his baseball cap. The suspect with gray gloves had a blue bill on his baseball cap.
If anyone has any information regarding this incident, you are urged to submit a tip. To remain anonymous contact Pueblo Crime Stoppers @ 542-STOP (542-7867) or www.pueblocrimestoppers.com. If your Crime Stoppers tip leads to a felony arrest, you could be eligible for a cash reward.