TRINIDAD -
Trinidad Police said officers found human remains inside a plastic storage tote while searching an apartment Tuesday.
Police said they searched an apartment at the Western Apartments in the 400 block of North Ave. Tuesday when they found the storage tote in a closet. Officers arrested Cameron Johnson McCann, who lives at the complex.
Police said they found the body of a man while searching McCann's apartment in connection to sex crimes related to child pornography. Officers found the body inside a plastic tote in a back bedroom closet.
Officers said they were not able to identify the remains and the body had likely been there for several months.
"We've been working with the FBI on it and as a result of working with them we got a search warrant for the residence and went in specifically looking for child pornography and that's when we found the tote with the dead body," said Trinidad Police Chief Charles Glorioso.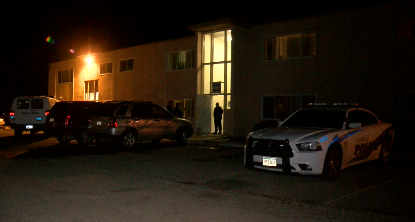 Police said they spoke with the manager of the apartment complex, who said another man was living with McCann last spring, but said that man hasn't been seen for awhile.
The grisly discovery came as a shock to neighbors living at the Western Apartments.
"It's kind of mind-boggling because I'm close to most of the people that come through," said Francisco Quezada, who lives at the apartment complex.
Officers said they are considering this a suspicious death, but are continuing to investigate the case. Trinidad Police have asked the Colorado Bureau of Investigation to assist in the investigation.
An autopsy will be completed in the coming days to determine the identity of the body.
Trinidad Police said they consider the crime to be an isolated incident, and there is no currently no threat to the public.