CALIFORNIA -
UPDATE (9:15 a.m.) - Santa Barbara County Fire officials confirm that at least five people have died related to the overnight storm that caused mudslides and flash flooding in areas near the recent Thomas Fire burn area.
---
UPDATE (8:10 a.m.) - Fire officials confirm to KSBY News that at least two people have died in the storm.
---
Heavy overnight rains have damaged homes, prompted multiple rescues in the Montecito area, stranded drivers and closed Highway 101 from Highway 126 in Ventura to Milpas Street in Santa Barbara.
By 7:30 a.m., thousands were without power throughout Santa Barbara County. Prior to that, there were reports of people trapped in vehicles along Hot Springs Road in Montecito.
Shortly before 8:00 a.m., county officials said multiple people were driving the wrong way on Highway 101 and are calling road conditions "extremely dangerous."

Firefighters rescued a woman from a debris pile along Hot Springs Road in Montecito early Tuesday morning. (SB Co. Fire photo)
The Santa Barbara County Fire Department confirmed to KSBY that homes in the Montecito area had been destroyed by mudslides overnight.
While multiple rescues have taken place, there have been no reports of any injuries.
30,000 now under evacuation warnings, orders in southern Santa Barbara County
Fire officials are urging everyone to stay off the roads in the Santa Barbara and Montecito areas and say anyone needing to head south from San Luis Obispo County should use highways 46 or 166 as detours.
SBCountyOEM@SBCountyOEM

SB County residents are urged to STAY OFF OF THE ROADS to allow emergency operations to take place in areas impacted by the storm. Thank you.
Residents in Montecito, Carpinteria and Summerland are also urged to stay off the roads, but are being told to stay home, shelter in place or get to higher ground.
Thousands lose power in Santa Barbara County
Additional crews have been called in, including those from CAL FIRE SLO and SLO City Fire.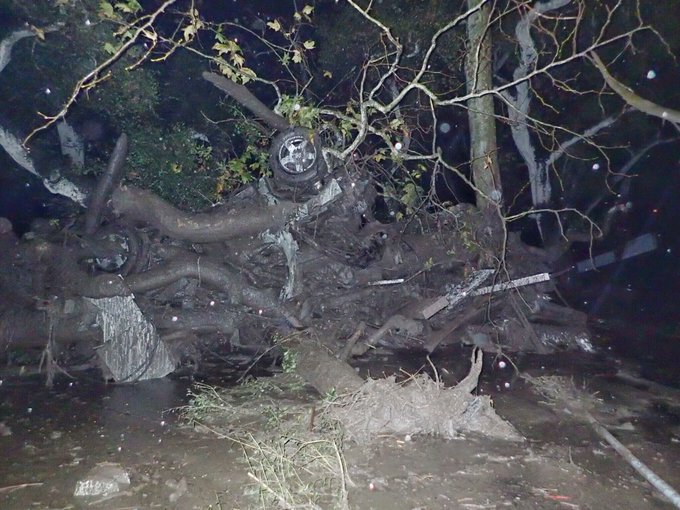 SBCFireInfo@EliasonMike

#CAstorm- Santa Barbara county FF's rescue two men and a woman from flood water/debris flow of Hot Springs Rd. in Montecito. Multiple rescues are underway throughout the area.
The U.S. Coast Guard is reportedly bringing in air ships to assist with rescue efforts.
In northern Santa Barbara County, mud and debris in the Alamo Fire burn area as closed Santa Maria Mesa Road from Foxen Canyon Road to Tepusquet Road. Tepusquet Road from Santa Maria Mesa Road to Highway 166 was also reportedly closed.
Fabiola Ramirez@_FabRamirez

The destruction this #CAstorm left is unbelievable. This is #Montecito along East Valley Road and also along Olive Mill Rd. #CAwx