DOUGLAS COUNTY -
Thousands of law enforcement officers from across the state joined in a procession stretching from Castle Rock to Highlands Ranch in honor of fallen Douglas County Deputy Zackari Parrish before an emotional funeral in Highlands Ranch.
People lined I-25 holding American flags and showing their support for Deputy Parrish, as the procession made its way to the Cherry Hills Community Church on 3900 Grace Blvd. in Highlands Ranch. It was a tremendous outpouring of support the law enforcement community and those who live in the communities of Castle Rock and Douglas County where Parrish served as a police officer and a deputy for almost three years.
Deputy Parrish's widow, Gracie, tearfully told those gathered for the funeral of how she would "love and honor you with every fiber of my being for the rest of my life." Gracie Parrish spoke of how her husband would write each other notes when they were dating and throughout their marriage.
She said, "he loved his job. As soon as he was sworn in his blood turned blue and mine did too." Parrish leaves behind his wife and two young daughters. He previously worked in the banking industry with his father before turning to his childhood ambition of law enforcement.
Zack Parrish served with the Castle Rock Police Department for 2 years before taking a job as a deputy with the Douglas County Sheriff's Office.
Castle Rock Police Chief Jack Cauley recalled the phone call he received on the day Zack Parrish was shot, alongside 4 other Douglas County deputies. Referring to it at something that keep him up at night.
The chief spoke of his first meeting with the young man moving from banking into law enforcement. "Zack walks in with this big smile.. and a firm handshake. I realized this was going to be a great interview." Cauley realized Parrish had a strong faith in God, a love of his family and there was "no doubt in his mind that there was some kind of magnetic force pulling him towards law enforcement. It was a calling for Zack."
Douglas County Sheriff Tony Spurlock spoke of his 7 months experience with Parrish on his force. "He was brave and courageous and caring. He had a thirst to learn and to know, and that was about everything." The Sheriff said he always overheard other deputies trying to work the schedule so they would be partnered with Zack.
Spurlock recalled the day of the shooting when Deputy Parrish was first called out to the disturbance at the apartment complex in Highlands Ranch. He says Parrish was calm and encouraged everyone to go back to sleep as it was the middle of the night.
But when another call came in for the same location less than an hour later, Spurlock says Parrish could tell the situation had changed.
According to Spurlock, his deputy remained calm throughout the entire encounter, encouraging the armed suspect to "let me talk to you.. let me help you" up until the moments he was killed in the line of duty.
"I'm proud of Deputy Zack Parrish. He was a cop's cop and he didn't even know what that was. He just knew everyone around him had it.. and he wanted it," said Sheriff Spurlock in closing.
---
Douglas County Deputy Parrish was killed in the line of duty on Sunday in Highlands Ranch. Five officers were wounded that day, when suspect Mathew Riehl ambushed the deputies from inside his apartment. At this time, the other four officers are recovering from their wounds.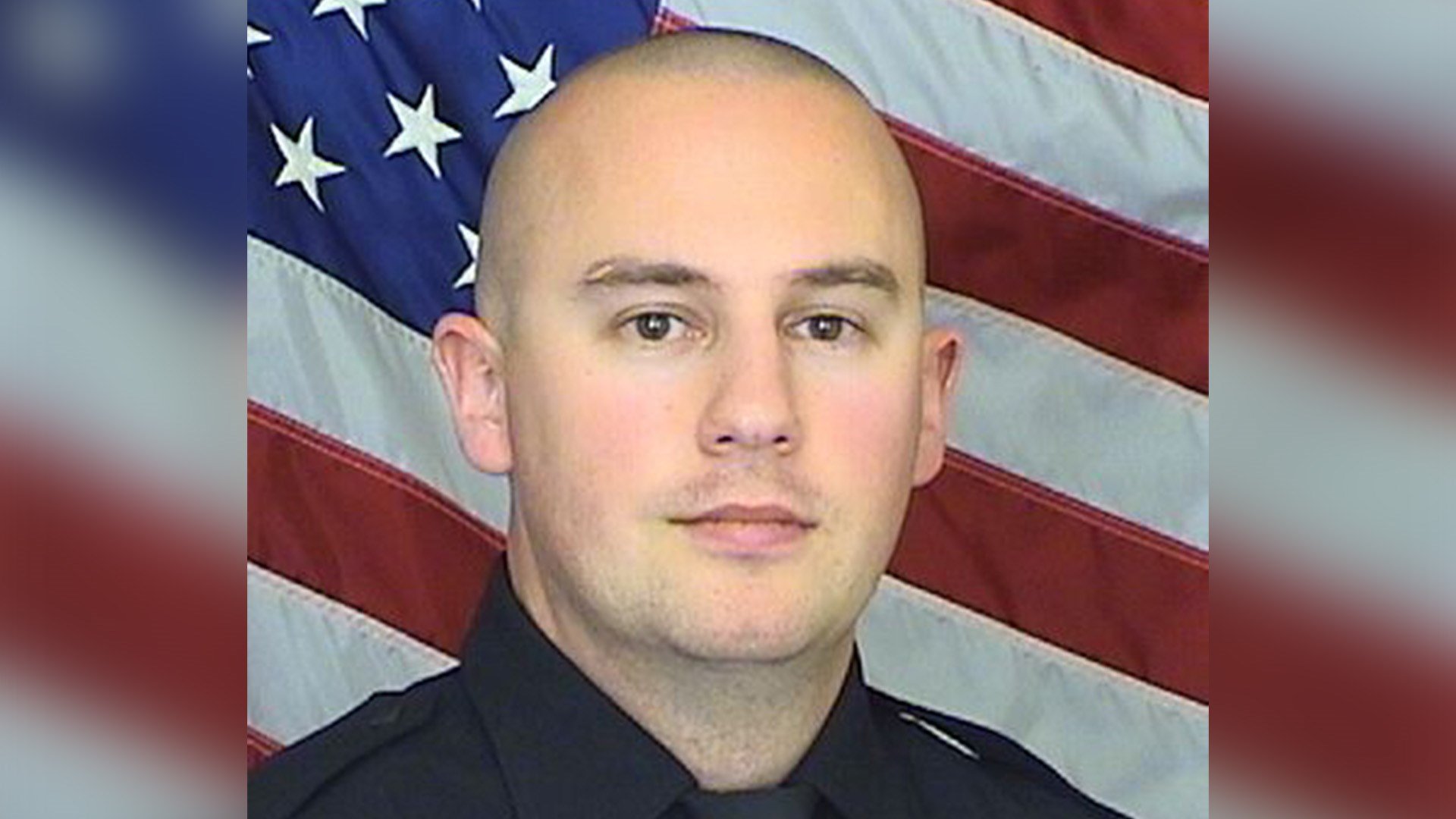 (Douglas County Deputy Zackari Parrish)
If you wish to help, the Douglas County Sheriff's Office asks people to donate to their Fallen Officers Fund. Food donations will no longer be accepted.
A Douglas County patrol vehicle is currently parked in front of the Douglas County Sheriff's Office Highlands Ranch Substation at 9250 Zotos Drive in Highlands Ranch. Kind notes and any support the public would like to leave for the Parrish family may be left with the patrol vehicle.
For more information regarding Deputy Zackari Parrish:
Douglas County Sheriff's Deputy killed, 6 others wounded in Highlands Ranch
Donate to Douglas County's Fallen Officer Fund
Flags lowered statewide to honor fallen Douglas County Sheriff's Deputy