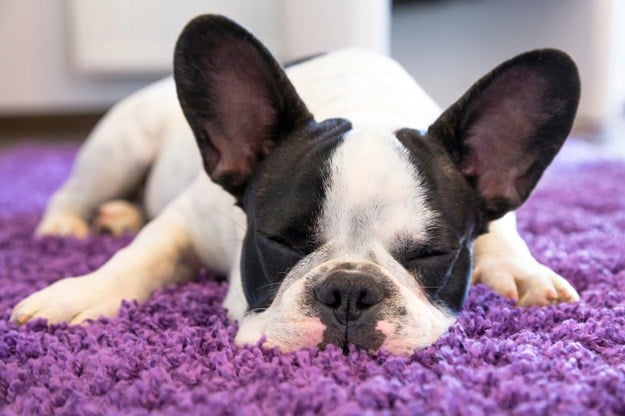 How long has it been since your carpets were cleaned by a professional?
I'm talking to you, dad with 6-month-old daughter rolling around on the family room carpet. And to you, woman who just called the five-second rule on a piece of cheddar that bounced across the Berber.
It's time to face the facts: You (and a lot of other folks) only get the carpet cleaned before a big party. For while we are a nation of carpet lovers – some 51 percent of the total U.S. flooring market is carpet, according to the Carpet and Rug Institute – just 39 percent of us have hired a professional carpet cleaner.
That leaves a lot of unclean carpet across this country – some of it no doubt in your house. Ben Stratman, owner of Creative Carpet Care & Restoration, Colorado Springs, Colorado, has seen – and cleaned – miles and miles of it.
"The carpet and the air quality in your home will benefit from professional carpet cleaning service every three to four months depending on the amount of foot traffic," says Stratman. "It's as much about what's in and under the carpet as what you see."
Dirt is just part of the problem with a dirty carpet, Stratman says. Dust mites, bacteria and allergens, which affect the air quality in your home, also lurk underfoot. Spot-cleaning only masks the problem. Only professional-grade cleaning equipment and products get to the root of it.
"Some people think carpet only needs to get cleaned if they can see a soiled area," Stratman says. "They couldn't be more wrong. If you wait until dirt is visible to get your carpet cleaned, you risk damaging the carpets fibers, which can change color, texture and wear, not to mention compromising the health of your family."
Best of all, a professionally cleaned and protected carpet will more easily fight off future stains, preserving your investment.
The top six carpet nightmares Stratman says he has seen in his 10-plus years on the job:
1. Home remodeling projects: "The do-it-yourself remodeling trend has been the carpet cleaner's best friend," Stratman says. "It takes a lot of dust and paint splatters to make a new kitchen."
2. The cuppa: "There's a daily parade of cups throughout most houses," Stratman says. "Cups of coffee, cups of Gatorade, cups of blueberry-kale smoothies. And sooner or later they all spill."
3. Water, water everywhere: "Any amount of water on carpet is already too much," says Stratman. "Too much water on a houseplant spills onto the carpet. The garden hose left on overnight soaks the carpeted basement. Or Mother Nature sends too much rain and homes are flooded. Water restoration of a carpet must take place immediately to avoid mold."
4. The potty-training years: "Enough said."
5. Beauty products: "Lipstick, mascara and nail polish in the hands of a curious toddler inflict a special kind of damage," Stratman says. "Even the most durable carpets suffer."
6. The revenge of the sewer pipe: "It's never good when a customer leads a call with, 'So my sewer pipe backed up and overflowed.'"
Stop worrying about the piece of cheese. Call a carpet-cleaning professional.
In fact, call Ben Stratman at Creative Carpet Care & Restoration, a family-owned company that handles carpet cleaning, tile and grout, upholstery cleaning, water damage restoration and mold remediation. He's seen it, and cleaned it, before.