From Our Sponsors: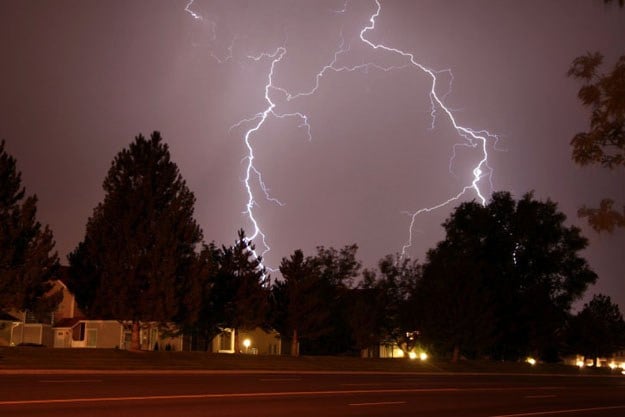 Your appliances are designed to handle a lot. However, nothing can prepare them for unpredicted power surges caused by Colorado's powerful August storms and dangerous lightening strikes.
Homes and people on the high plains of Colorado are especially at risk. The state was third in the U.S. for lightning-strike fatalities from 2005 to 2014, according to the National Weather Service. More than 500,000 lightning flashes hit the ground here annually.
And it's not just direct strikes that cause damage. Ground current that travels outward from the strike and the conduction of electric charge through wires, plumbing or metal surfaces can all wreak havoc and harm or even cause fatalities at home.
"Even without hitting your home directly, a lightning strike that hits the ground around your home or nearby power lines can create a power surge that causes side effects and damage," says Trent Urban, owner of The WireNut, Colorado Springs. His company provides expert Electrical and HVAC services to Front Range residents.
Your electronic devices can easily lose a few years of life because of power surges they weren't designed to handle. Sometimes the damage is immediate. In a strong Colorado storm, it is common for garage door openers, GFI outlets (ground fault interrupter outlets with built-in circuit breaking, located near water sources in your home) and top-of-the-line electronics to be ruined by just one lightning strike.
Lightning damage can be minimized by having a licensed electrician do the following, explains Urban:
1. Use a whole-home surge protector.
This doesn't mean the plug-in strip on the floor by your computer. A whole-home surge protector can be mounted in a home's electrical panel to protect against electrical surges that can damage computers, appliances, home theatre systems and other valuable electronics.
When installed by a licensed electrician, this unit comes with a warranty for damage that may occur due to lightning strikes. For added protection, add a power filter to the surge protector.
2. Add a stronger grounding system.
All homes are required to be grounded, or protected from an excess or misdirected electrical charge, typically through a wire that channels excess electrical charge away from the home's electrical system and safely into the ground. Fire and electrical shock can result from a home that is not grounded, or is poorly grounded. Inspection of the home's grounding system is helpful in preventing damage or dangerous electrical shock.
"Every time there's a short circuit or any kind of electrical hazard in your home, it's cleared out or shut down by a good grounding system," Urban says. Grounding systems have improved over time, he points out. "Some older homes were not grounded at all and may be extremely unsafe," he says.
If your home was built before 2003, it likely needs additional grounding to help surge protectors work better, to accommodate major electrical equipment such as hot tubs and Jacuzzis and to protect home electronics and occupants.
3. Consider the tried-and-true lightning rod.
Lightning rods are an excellent option to help protect your home against lightning strikes, according to Underwriter Laboratories. The small, thin rods placed on roofs 30 to 50 feet high conduct an electrical charge harmlessly to the ground through a wire, so a structure is left unharmed.
Has your home been inspected for electrical issues? The WireNut, serving the Front Range from Colorado Springs through Pueblo, Denver and Longmont, offers a full range of lightning protection services along with a 20-point, complimentary electrical safety inspection.
The WireNut is one of the highest-volume residential service contractors specializing in electrical, heating and air conditioning in Colorado Springs and the Front Range. Whether it's protecting you against lightning strikes, replacing your furnace, installing a new AC system or putting in an electrical panel, the WireNut is here for you.
For quality service and peace of mind, drop by The WireNut website and book online to request a free estimate for lightning protection services or call (719) 484-0101.
This article was produced for and sponsored by The WireNut, Colorado Springs, Colorado. It is not a product of or affiliated with KOAA.