From Our Sponsors: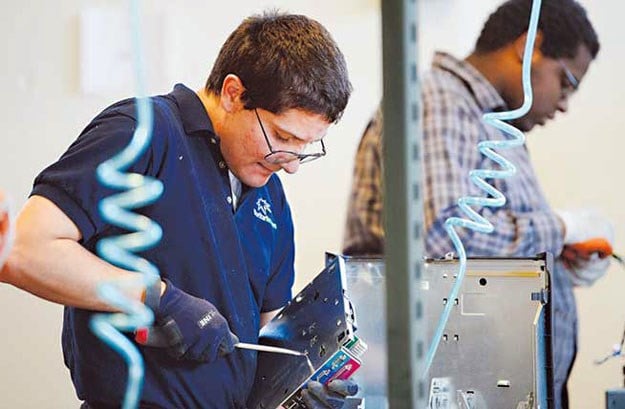 For the past six years, a good day's work for the team at Blue Star Recyclers has centered on destruction: breaking down electronics, hard drives and computers and ethically recycling circuit boards, screws, fans and wires.
Now, some seven million pounds of e-waste later, there's a new job on the line at the Colorado Springs nonprofit: salvaging and refurbishing some of those computers and placing them in the hands of low-income families and children.
The partnership agreement with PCs for People, St. Paul, Minnesota, will create meaningful new jobs for Blue Star workers, whose developmental disabilities often make finding fulltime employment difficult. PCs for People, the nonprofit leader in efficient, scalable refurbishing of computers, has placed more than 40,000 affordable computers with low-income Minnesotans.
"Blue Star will help bridge the digital divide for low-income residents and kids right here in Colorado," says Blue Star chief executive officer Bill Morris. "At the same time, our workers who participate in refurbishing will have a new avenue to develop job and computer skills.
"We're excited about our new mission," Morris says.
Beginning in late summer, Blue Star's facility in Denver and PCs for People will begin offering newly refurbished computers and laptops to low-income families in the Greater Denver area at little to no cost and provide them free to qualified school-age children throughout Colorado via the PCs for Kids program.
"We see great opportunities in old PCs," says Morris. "We are proud to add refurbishing to our employees' skill set."
How It Works
Blue Star's recycling centers in Colorado Springs and Denver will serve as intake facilities for donated desktop computers or laptops. The Blue Star team in Colorado Springs, already proficient in data destruction in compliance with strict protocols, will begin cosmetic cleanup of the equipment. The computers will be transported to the PCs for People team onsite in Denver for final refurbishing and distribution to someone in need.
"The bonus for us is that some of our higher functioning Blue Star team members will join the PCs for People team to learn new skills," Morris says.
Morris hopes to provide neighborhoods surrounding Blue Star's facility in Denver with computers and Internet access that will help families find gainful employment.
Depending on the need of individual families, Blue Star's refurbished computers will be available at three levels: a no-cost desktop system running Linux software, a $30 desktop setup running Windows 10 and a $60 laptop running Windows 10. The equipment includes a 90-day warranty and initial training. Low-cost Internet service will be available through Sprint.
As more Blue Star workers receive training, Morris hopes to expand distribution of the computers to the Colorado Springs facility in 2016.
Get Involved
Help Blue Star Recyclers get its computer refurbishing program off to a strong start!
• Donate your old computer. Drop off computers no older than 5 years at one of these locations.
• Businesses with large number of old computers following an equipment upgrade can receive a tax deduction for donating used PCs. Contact Blue Star Recyclers for pickup.
• Support Blue Star's mission. Sponsor Internet access for families for six months or offset the cost of computer refurbishing. Your donation assists someone in need of a computer and creates work for adults with disabilities.
This article was produced for and sponsored by Blue Star Recyclers, Colorado Springs, Colorado. It is not a product of or affiliated with KOAA.